Saint Anne's Hospital Spine Surgery Program marks 500th robotic-assisted procedure
Fall River, MA - The spine surgery program of Saint Anne's Hospital, a Steward family hospital, has marked a significant milestone in robotic-assisted spine surgery.
Neurosurgeon Charles Kanaly, MD, FAANS, chair of the Division of Neurosurgery in the Department of Surgery and medical director of the Spine Center of Saint Anne's Hospital, has performed more than 500 minimally invasive robotic-assisted procedures to help patients with a wide variety of neck, back and spine conditions. 
In 2017, Saint Anne's Hospital became the first facility in Massachusetts to offer navigation-guided, robotic-assisted technology for spine surgery. Some of the most common spine conditions that can benefit from robotic-assisted surgery include compression fracture, disc herniation, fractures, spinal tumors, and spinal stenosis.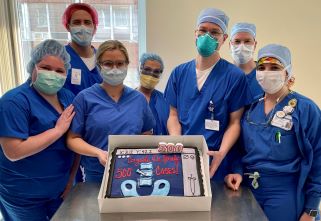 The hospital's ExcelsiusGPS(R) system uses robotics and a sophisticated navigation system, similar to that in a car, to guide the surgeon in performing spinal procedures. 
Prior to surgery, images are taken and fed into the system to create a "map" of the patient's anatomy. During surgery, the guidance system incorporates CT imaging before surgery, as well as CT imaging and fluoroscopy during surgery, that allow accurate, real-time images. It offers less exposure to radiation, less blood loss, and less tissue damage, often resulting in patients' shorter hospital stays, quicker recovery, and faster return to daily activities. 
In 2018, Saint Anne's became the first hospital in Massachusetts to earn The Joint Commission's "Gold Seal" certification for spinal surgery. In 2020, it also earned the "Blue Distinction Center+ for Spine Surgery" designation by Blue Cross Blue Shield.
To learn more about Saint Anne's Hospital's Spine Center and spine surgery program, visit SaintAnnesHospital.org/spine.
 
About Saint Anne's Hospital
Founded by the Dominican Sisters of the Presentation in 1906, Saint Anne's Hospital in Fall River, Massachusetts, is a full-service, acute care Catholic hospital with 211 beds and satellite locations in Dartmouth, Attleboro, Swansea, New Bedford, and Stoughton, MA. 
A member of Steward Health Care, Saint Anne's provides nationally recognized patient- and family-centered inpatient care and outpatient clinical services to patients from Massachusetts and Rhode Island communities. Saint Anne's key services include the Center for Orthopedic Excellence; bariatric surgery; multiple robotic-assisted surgical capabilities, including orthopedic surgery, spine surgery, bariatric surgery, and general surgery; Saint Anne's Hospital Regional Cancer Center; two ambulatory surgery centers; the Center for Pain Management; and inpatient geriatric psychiatry services. Saint Anne's has earned the Leapfrog Group's "Straight A's" for patient safety since 2012 and Healthgrades' Patient Experience and Patient Safety awards for five consecutive years. Saint Anne's also has earned national recognition for its cancer care, spine surgery, bariatric surgery, and stroke programs.