Imaging Services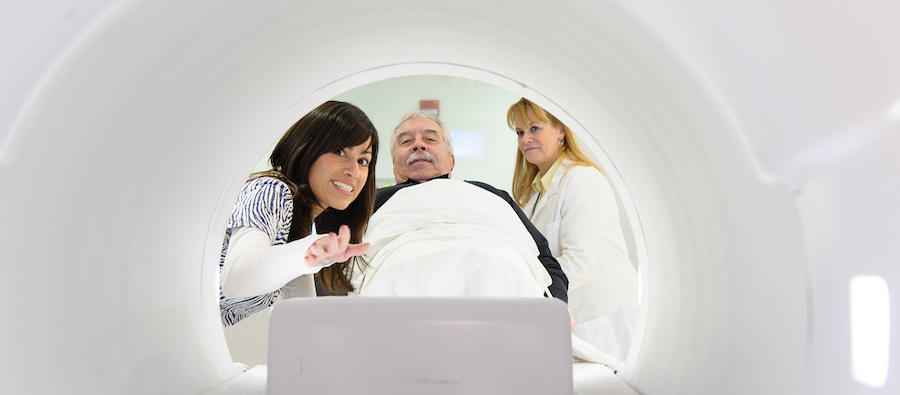 Advanced diagnostic imaging for you and your family
Saint Anne's Hospital's diagnostic imaging and radiology services offers a comprehensive range of advanced imaging modalities to help health care providers evaluate and provide information on a variety of illnesses and conditions affecting patients.
Diagnostic Imaging & Radiology: MRI, X-Ray, Ultrasound, CT Scans, more
 
Saint Anne's was the first area hospital to adopt PACS (Picture Archiving Communication System) as part of a system effort to link Steward Health Care's family of hospitals. The PACS system is part of a patient's secure and confidential electronic medical record providing improved care through integration of various tests and reports, all in one easily retrievable location.
Our diagnostic imaging services include:
CT provides 3-D views that are valuable for interpretations by radiologists. 
MRI delivers excellent imaging of soft tissue. An MRI can be used to evaluate brain, neck, and spinal cord problems. It can also help caregivers look at problems with most parts of the body, including chest, heart, abdomen, joints, and blood vessels.
Wide-bore MRI for improved comfort: Saint Anne's Hospital offers a wide-bore MRI, featuring a more spacious design. The wide-bore MRI has a larger opening that can reduce the feeling of claustrophobia often associated with MRI exams. In many cases, exams can also be completed faster, with improved communication between the patient and MRI technologist. Consult your physician for more information about scheduling a wide-bore MRI.
The wide-bore MRI is available at PrimaCARE Medical Center, 289 Pleasant St., Fall River, and on the Saint Anne's Hospital campus.
 
Diagnostic Cardiology 
Diagnostic cardiology imaging offers a variety of services, including:
EKGs
Echocardiograms
Stress tests
Holter monitoring
Event monitoring
Diagnostic Radiology (X-ray)
Digital X-ray technology allows instant viewing. In addition to common X-ray exams, specialized X-ray exams include:
Breast MRI is most commonly used to detect breast cancer after mammography, assessing the stage or extent of breast cancer. Breast MRI is part of the continuum of comprehensive breast health services offered by Saint Anne's Robert F. Stoico/FIRSTFED Center for Breast Care. Breast MRI also includes CADstream, a computer-aided detection system used in analyzing MRI studies.  
Digital mammography 
Our 3-D digital mammography utilizes special equipment to locate breast lesions with a low dose of radiation to the patient. This advanced technology offers improved image quality, reduced procedure time, and enhanced patient comfort.
Nuclear medicine 
Nuclear medicine utilizes drugs containing radioactive isotopes, called radiopharmaceuticals, to generate images of organs within the body. Some specialized nuclear medicine exams include:
PET/CT Imaging 
Positron emission tomography, known as PET, allows physicians to view metabolic activity in the body and pinpoint where cancers are located. The combination of PET with CT is especially valuable in detecting or assessing certain cancers, heart conditions and neurological problems. 
Ultrasound uses high-frequency sound waves to produce echoes within the body. The strength and timing of the echoes returning to the send point are analyzed by a computer to produce a graphic image of the area of interest.
National accreditation
We have earned accreditation by the American College of Radiology, plus other recognitions, for the following: