Pediatrics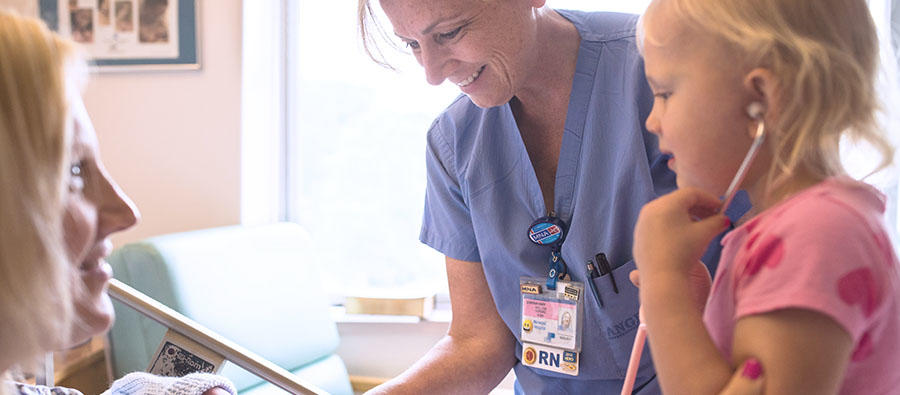 We are here to help you find what you need.
For decades, Saint Anne's Hospital has prided itself on the scope and level of care offered to its young patients.
Saint Anne's offers a spectrum of pediatric services, including:
The area's only dedicated, licensed inpatient pediatric unit
Specialized outpatient services through our Fernandes Center for Children & Families
Community and social work services that include youth trauma programs
Clinical services (X-ray, MRI, CT, surgery, and emergency care) tailored just for kids
If a child requires more advanced treatment, families are ensured a smooth transition from Saint Anne's to one of its partnering hospitals.
Inpatient Services
Saint Anne's Hospital features Greater Fall River's only dedicated, licensed inpatient unit for children. The pediatric nursing team serves in several capacities and provides services, including:
Care for asthma, infections, respiratory, or diabetes-related problems
Recovery from general, orthopedic, or other surgery
Treatment of less common illnesses, such as meningitis or Kawasaki disease
Comprehensive education for patients and their families
The Fernandes Center for Children & Families
Children with complex medical, developmental, and/or behavioral problems receive interdisciplinary outpatient care at The Fernandes Center for Children & Families of Saint Anne's Hospital in collaboration with Hasbro Children's Hospital.
Founded in 1997, the Fernandes Center provides coordinated, family-centered care services for outpatient evaluation, diagnosis, and treatment of children with diverse developmental, behavioral, or special health care concerns. The staff of this unique community resource works closely with referring pediatricians, area schools, and community agencies to coordinate services to help each child and family.
Pediatric Specialty Care
Ensuring that local families get the best in pediatric medicine without extensive travel and complicated scheduling, Saint Anne's provides care in specialty areas, including:
Cardiology
Behavioral health, including child and adolescent psychiatry, child psychology, neuropsychology, and clinical social work
Developmental behavioral pediatrics
Endocrinology
Gastroenterology
Genetics
Neurology 
Nutrition, including our Growth & Nutrition Clinic 
Orthopedics
Rehabilitation (physical, speech-language and occupational therapy)
Weight management
Youth Trauma Program, a Massachusetts Office for Victims Assistance-funded program of the Justice Resource Institute, located at the Fernandes Center