Pediatrics
Providing specialty outpatient care for young patients
Pediatrics
795 Middle St.
Fall River, MA 02721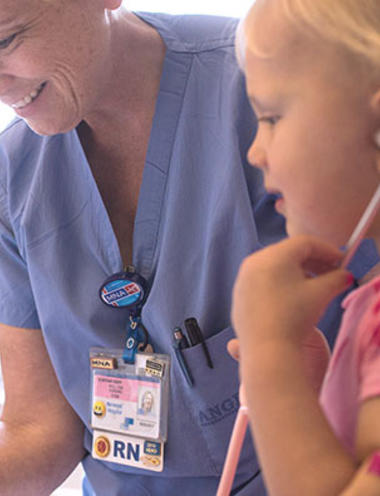 Locations
Fernandes Center for Children & Families
Outpatient Specialty Care
Telephone: 508-235-5285
Fax: 508-678-6905
222 Milliken Boulevard
Fall River, MA 02721
Youth Trauma Program
A MOVA-funded program of the Justice Resource Institute
Telephone: 508-674-5600, ext. 2283
Pediatrics at Saint Anne's Hospital
The Fernandes Center for Children & Families
Children with complex medical, developmental, and/or behavioral problems receive interdisciplinary outpatient care at The Fernandes Center for Children & Families of Saint Anne's Hospital in collaboration with Hasbro Children's Hospital.
Founded in 1997, the Fernandes Center provides coordinated, family-centered care services for outpatient evaluation, diagnosis, and treatment of children with diverse developmental, behavioral, or special health care concerns. The staff of this unique community resource works closely with referring pediatricians, area schools, and community agencies to coordinate services to help each child and family.
Pediatric Specialty Care
Ensuring that local families get the best in pediatric medicine without extensive travel and complicated scheduling, Saint Anne's provides care in specialty areas, including:
Cardiology
Behavioral health, including child and adolescent psychology and clinical social work
Developmental behavioral pediatrics
Gastroenterology 
Growth and feeding
Infant and Toddler Program. See our brochure here.
Nutrition 
Occupational therapy
Physical therapy
Speech-language therapy
Youth Trauma Program, a Massachusetts Office for Victims Assistance-funded program of the Justice Resource Institute, located at the Fernandes Center
Resources

If your child has feeding problems, such as chewing and swallowing, developmental complications, or sensory sensitivities, the Feeding and Growth & Nutrition clinics at our Fernandes Center for Children & Families can help. To learn more, download our brochure.