MAKOplasty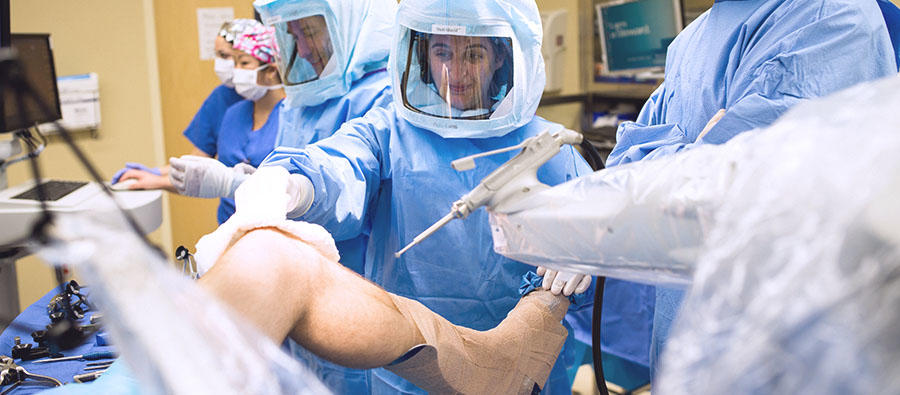 We are here to help you find what you need.
Saint Anne's Hospital was the first in Massachusetts to offer MAKOplasty® for knee resurfacing and total hip replacement.
The procedure is an innovative, robotic-arm assisted alternative to traditional knee and hip replacement surgeries.
MAKOplasty Partial Knee Resurfacing is designed to relieve pain caused by joint degeneration and can offer:
Improved surgical outcomes resulting in a more natural feeling knee following surgery
Less implant wear and loosening
Joint resurfacing
Bone sparing
Smaller incision
Less scarring
Reduced blood loss
Shorter hospitalization
Rapid recover
MAKOplasty Total Hip Replacement can offer the following benefits over traditional hip replacement:
Accurate placement of the hip implant using the surgeon-controlled robotic arm system, reducing the likelihood of hip dislocation
More consistency in leg length, potentially decreasing the need for a shoe lift
Decreased risk of the implant and bone abnormally rubbing together, improving the lifetime of the implant
Learn More About Robotic Assisted Knee & Hip Replacement: Watch Our Online Seminar
Resources
SAH MAKO Brochure

Are you living with knee pain? MAKOplasty might be the right option for you. Download the brochure.

One patient's story: Living life, pain-free

After years as a devoted caregiver for aging relatives, Gayle Skeffington, of Fall River, Massachusetts, found that it was time to care for herself. Caring for her painful knees was at the top of her list. Read her story.