Healthgrades Names Saint Anne's Hospital a 2023 Outstanding Patient Experience Award™ Recipient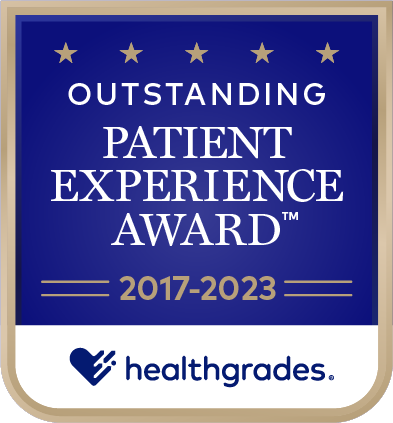 Fall River, MA – Saint Anne's Hospital has announced that it has been recognized by Healthgrades as a 2023 Outstanding Patient Experience Award™ recipient. This distinction – the hospital's seventh consecutive award since 2017 – places Saint Anne's Hospital among the top 10% of hospitals nationwide for patient experience, according to Healthgrades, the leading marketplace that connects people with the right doctor and hospital.
"A great patient experience relies on several important components," said Michael Bushell, president of Saint Anne's Hospital. "When the goals are to foster a positive culture, teamwork, high quality care in every interaction, and attention to details that provide comfort and confidence, patients feel safe and well cared for. At Saint Anne's, we are proud that this year's seventh consecutive Healthgrades Patient Experience award recognizes that our providers and staff are committed to outstanding patient experiences every day."
For this annual analysis, Healthgrades evaluated 3,138 hospitals that submitted at least 100 patient experience surveys to the Centers for Medicare and Medicaid Services (CMS), covering admissions from January 2021 through December 2021. Of those hospitals evaluated, 419 hospitals outperformed their peers—based on their patients' responses—to achieve this award.
Healthgrades evaluates performance by applying a scoring methodology to ten patient experience measures, using data collected from HCAHPS survey of the hospital's own patients. Survey questions focus on patients' perspectives of their care in the hospital, from cleanliness and noise levels in patient rooms to medication explanations and hospital staff responsiveness to patients' needs. The measures also include whether a patient would recommend the hospital to friends or family and their overall rating of the hospital.
"We applaud all recipients of the Healthgrades 2023 Outstanding Patient Experience Award for putting patient experience front and center within their organizations," said Brad Bowman, MD, chief medical officer and head of data science at Healthgrades. "We commend these hospitals for their ongoing commitment to prioritizing an exceptional patient experience, while ensuring the health and safety of their patients."
Consumers can visit healthgrades.com for more information on how Healthgrades measures hospital quality and access the complete methodology here. An easy-to-understand overview of Healthgrades' complete patient experience methodology is also available here.
###
About Saint Anne's Hospital
Founded by the Dominican Sisters of the Presentation in 1906, Saint Anne's Hospital in Fall River, Massachusetts, is a full-service, acute care Catholic hospital with 211 beds and satellite locations in Dartmouth, Attleboro, Swansea, and New Bedford, Massachusetts. A member of Steward Health Care, Saint Anne's provides nationally recognized patient- and family-centered inpatient care and outpatient clinical services to patients from surrounding Massachusetts and Rhode Island communities. In addition to national recognition for cancer care, orthopedic surgery, spine surgery, bariatric surgery, stroke care, and patient experience, Saint Anne's is one of just 20 U.S. hospitals to have earned 23 "Straight A's" from the Leapfrog Group for patient safety since 2012. Follow us on Facebook, Instagram, and LinkedIn.
About Healthgrades
Healthgrades is dedicated to empowering stronger and more meaningful connections between patients and their healthcare providers. As the #1 platform for finding a doctor and a leader in healthcare transparency, we help millions of consumers each month find and schedule appointments with their healthcare professional of choice and prepare for their appointments with best-in-class, treatment-focused content.
Our health system, large group practice, and life sciences marketing solutions have been helping our partners reach and engage consumers who are on their way to the doctor for over 20 years.
Healthgrades is part of RVO Health, a partnership between Red Ventures and Optum, part of UnitedHealth Group. RVO Health has the largest consumer health and wellness audience online across its brand portfolio including Healthgrades, Healthline, Medical News Today, Greatist, Psych Central, Bezzy and Platejoy which touch every part of the health and wellness journey. Each month, RVO Health helps more than 100 million unique visitors live their strongest and healthiest lives.