Saint Anne's Hospital is nationally recognized for commitment to providing high-quality stroke care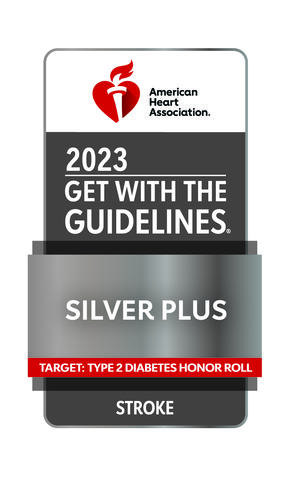 Fall River, MA – Saint Anne's Hospital  has received the American Heart Association's Get With The Guidelines® - Stroke Silver Plus quality achievement award for its commitment to ensuring stroke patients receive the most appropriate treatment according to nationally recognized, research-based guidelines, ultimately leading to more lives saved and reduced disability.
Hospitals receiving Get With The Guidelines® Silver Plus Achievement Award have reached an aggressive goal of treating patients to core standard levels of care as outlined by the American Heart Association/American Stroke Association® for one calendar year. In addition, those hospitals have demonstrated compliance to an addition level of quality during the 12-month period.
In addition to the Silver Plus Achievement Award, Saint Anne's also received the American Heart Association's "Target: Type 2 Honor Roll" award. Target: Type 2 Diabetes aims to ensure patients with Type 2 diabetes, who might be at higher risk for complications, receive the most up-to-date, evidence-based care when hospitalized due to stroke.
"Saint Anne's Hospital is committed to improving patient care by adhering to the latest treatment guidelines," Michael Bushell, Saint Anne's Hospital president, said. "Get With The Guidelines makes it easier for our teams to put proven knowledge and guidelines to work on a daily basis, which studies show can help patients recover better. Under the leadership of Dr. Zeyad Morcos, specialist in neurology and chair of Saint Anne's Stroke Committee, the end goal is to ensure that more people in southeastern Massachusetts and nearby Rhode Island can experience longer, healthier lives."
Stroke is the number 5 cause of death and a leading cause of disability in the U.S. A stroke occurs when a blood vessel that carries oxygen and nutrients to the brain is either blocked by a clot or bursts. When that happens, part of the brain cannot get the blood and oxygen it needs, so brain cells die. Early stroke detection and treatment are key to improving survival, minimizing disability, and accelerating recovery times.
About Get With The Guidelines
Get With The Guidelines puts the expertise of the American Heart Association and American Stroke Association to work for hospitals nationwide, helping ensure patient care is aligned with the latest evidence- and research-based guidelines. Get With The Guidelines – Stroke is an in-hospital program for improving stroke care by promoting consistent adherence to these guidelines, which can minimize the long-term effects of a stroke and even prevent death.
Each year, program participants qualify for Get With the Guidelines awards by demonstrating how their organization has committed to providing quality care for stroke patients. In addition to following treatment guidelines, Get With The Guidelines participants also educate patients to help them manage their health and recovery at home.
About Saint Anne's Hospital
Founded by the Dominican Sisters of the Presentation in 1906, Saint Anne's Hospital in Fall River, Massachusetts, is a full-service, acute care Catholic hospital with 211 beds and satellite locations in Dartmouth, Attleboro, Swansea, and New Bedford, Massachusetts. A member of Steward Health Care, Saint Anne's provides nationally recognized patient- and family-centered inpatient care and outpatient clinical services to patients from surrounding Massachusetts and Rhode Island communities. In addition to national recognition for cancer care, orthopedic surgery, spine surgery, bariatric surgery, stroke care, and patient experience, Saint Anne's is one of just 20 U.S. hospitals to have earned 23 "Straight A's" from the Leapfrog Group for patient safety since 2012. Follow us on Facebook, Instagram, and LinkedIn.