Saint Anne's Hospital Regional Cancer Center Earns National Accreditation from the Commission on Cancer of the American College of Surgeons
Fall River, MA – The Commission on Cancer (CoC), a quality program of the American College of Surgeons, has awarded three-year accreditation to the cancer program at Saint Anne's Hospital.
To earn voluntary CoC accreditation, a cancer program must meet 34 CoC quality care standards, be evaluated every three years through a survey process, and maintain levels of excellence in the delivery of comprehensive patient-centered care.
As a CoC-accredited cancer center, Saint Anne's Hospital Regional Cancer Center takes a multidisciplinary approach to treating cancer as a complex group of diseases that requires consultation among surgeons, medical and radiation oncologists, diagnostic radiologists, pathologists, and other cancer specialists. This multidisciplinary partnership results in improved patient care.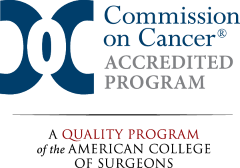 "For nearly five decades, Saint Anne's Hospital has provided comprehensive cancer care for patients from across southeastern Massachusetts and Rhode Island, right here in our community," said Michael Bushell, hospital president. "The program's philosophy, 'the art of caring and science of healing,' reflects the high level of expert patient care delivered with compassion by our specialists and all members of the staff. Accreditation by the Commission on Cancer recognizes the continued fulfillment of that promise."
The value of CoC accreditation
The CoC Accreditation Program provides the framework for Saint Anne's to continue to improve its quality of patient care through various cancer-related programs that focus on the full spectrum of cancer care including prevention, early diagnosis, cancer staging, optimal treatment, rehabilitation, life-long follow-up for recurrent disease, and end-of-life care. When patients receive care at a CoC facility, they also have access to information on clinical trials and new treatments, genetic counseling, and patient centered services including psycho-social support, a patient navigation process, and a survivorship care plan that documents the care each patient receives and seeks to improve cancer survivors' quality of life.
Saint Anne's Hospital's cancer care program was established in 1976 and first accredited by the Commission on Cancer in 1982. As a CoC facility, Saint Anne's maintains a cancer registry and contributes data to the National Cancer Data Base (NCDB), a joint program of the CoC and American Cancer Society. This nationwide oncology outcomes database is the largest clinical disease registry in the world. Data on all types of cancer are tracked and analyzed through the NCDB and used to explore trends in cancer care. CoC-accredited cancer centers, in turn, have access to information derived from the data analysis, which is used to create national, regional, and state benchmark reports. These reports help CoC facilities with their quality improvement efforts.
Why is providing cancer care in accordance with CoC-standards important?
In 2023, the American Cancer Society estimates that more than 1.9 million cancers will be diagnosed in the US, and more than 42,880 cases will be diagnosed in Massachusetts alone. Considering that cancer is one of the deadliest diseases leading to premature death, optimal cancer care is one of the pillars of care at Saint Anne's.
# # #
About the Commission on Cancer
Established in 1922 by the American College of Surgeons, the CoC is a consortium of professional organizations dedicated to improving patient outcomes and quality of life for cancer patients through standard-setting, prevention, research, education, and the monitoring of comprehensive, quality care. Its membership includes Fellows of the American College of Surgeons. For more information, visit: www.facs.org/cancer
About Saint Anne's Hospital Regional Cancer Center
Since 1976, Saint Anne's Hospital Regional Cancer Center has provided cancer care expertise in a community setting to patients in the Greater Fall River-Greater New Bedford, MA, area. With locations at Saint Anne's Hospital, Fall River, and in Dartmouth on the campus of Hawthorn Medical Associates, the center provides comprehensive medical oncology, hematology, and radiation oncology services. These services are provided by a team of experienced medical oncologists in collaboration with radiation physician specialists from Brigham and Women's Physician Organization who hold appointments at Brigham and Women's Hospital and Dana-Farber Cancer Institute. The program includes a range of professional and patient/family support services and access to national clinical trials. Since 1982, Saint Anne's Hospital Regional Cancer Center has been nationally accredited by the Commission on Cancer of the American College of Surgeons as a comprehensive community cancer program. It also is unconditionally accredited in radiation oncology by the American College of Radiology.
About Saint Anne's Hospital
Founded by the Dominican Sisters of the Presentation in 1906, Saint Anne's Hospital in Fall River, Massachusetts, is a full-service, acute care Catholic hospital with 211 beds and satellite locations in Dartmouth, Attleboro, Swansea, and New Bedford, Massachusetts. A member of Steward Health Care, Saint Anne's provides nationally recognized patient- and family-centered inpatient care and outpatient clinical services to patients from surrounding Massachusetts and Rhode Island communities. In addition to national recognition for cancer care, orthopedic surgery, spine surgery, bariatric surgery, stroke care, and patient experience, Saint Anne's also is one of just 20 U.S. hospitals to have earned 23 "Straight A's" from the Leapfrog Group for patient safety since 2012.