Saint Anne's Hospital Regional Cancer Center Welcomes Medical Oncologist Nathaniel Cook, MD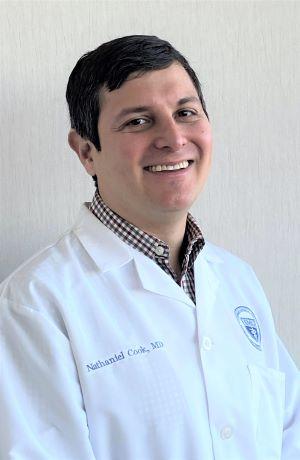 Fall River, MA – Medical oncologist Nathaniel Cook, MD, has joined the staff of Saint Anne's Hospital Regional Cancer Center.
Board certified by the American Board of Internal Medicine, Oncology and Hematology, Dr. Cook is a graduate of Temple University School of Medicine in Philadelphia. He completed his residency in internal medicine at Cooper University Hospital in Camden, New Jersey, and a fellowship in medical oncology/hematology at Roger Williams Medical Center in Providence. He is a member of the American Society of Clinical Oncology.
Dr. Cook joins medical oncologist Elliott Anderson, MD, and Phyllis Kelliher, MSN, FNP-BC, oncology nurse practitioner, at Saint Anne's Hospital Regional Cancer Center's Dartmouth campus at 537 Faunce Corner Road. Together, with Saint Anne's radiation oncologists, oncology-certified registered nurses, pharmacists, social workers, registered dietitians, and other professional staff trained in cancer care, they provide coordinated services for a wide range of cancers. 
To learn more, call 508-961-0710.
About Saint Anne's Hospital Regional Cancer Center
Founded in 1976, Saint Anne's Hospital Regional Cancer Center provides expertise in a community setting to patients in the Greater Fall River-Greater New Bedford, MA, area. With locations at Saint Anne's Hospital, Fall River, and in Dartmouth, the center provides comprehensive medical oncology, hematology, and radiation oncology services. These services are provided by a team of experienced medical oncologists in collaboration with radiation physician specialists from Brigham and Women's Physician Organization who hold appointments at Brigham and Women's Hospital and Dana-Farber Cancer Institute. The program includes a range of professional and patient/family support services and access to national clinical trials. Saint Anne's Hospital Regional Cancer Center is nationally accredited with commendation by the Commission on Cancer of the American College of Surgeons as a comprehensive community cancer program and unconditionally accredited in radiation oncology by the American College of Radiology.
About Saint Anne's Hospital
Founded by the Dominican Sisters of the Presentation in 1906, Saint Anne's Hospital in Fall River, Massachusetts, is a full-service, acute care Catholic hospital with 211 beds and satellite locations in Dartmouth, Attleboro, Swansea, and New Bedford, Massachusetts. A member of Steward Health Care, Saint Anne's provides nationally recognized patient- and family-centered inpatient care and outpatient clinical services to patients from surrounding Massachusetts and Rhode Island communities. In addition to national recognition for cancer care, orthopedic surgery, spine surgery, bariatric surgery, stroke care, and patient experience, Saint Anne's also is one of just 22 U.S. hospitals to have earned 22 "Straight A's" from the Leapfrog Group for patient safety since 2012.