Saint Anne's Hospital Named a Climate Leader by Mass Save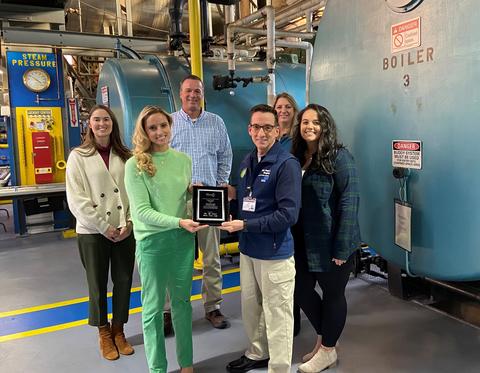 Fall River, MA – In recognition of ongoing efforts to increase its energy efficiencies, Saint Anne's Hospital has been named as one of Mass Save's inaugural group of 19 Climate Leaders.
In addition to health care, the group represents a range of industries across Massachusetts, including life sciences, hospitality, grocery, museums, and real estate. All are recognized for ongoing efforts to curb energy use and lead the Commonwealth to a net zero future.
Photo - left-right: Autumn Snyder, Stephanie Terach and Matt Caffrey, of Liberty; Clement Beaulieu, Saint Anne's lead power plant operator; and Kimberly Dragoo and Allison Beattie, of Liberty.
At Saint Anne's, efforts over the past five years have resulted in more than $100,000 in energy cost savings, as well as significant decreases in kilowatt hours in electrical energy. Working with Liberty, the hospital has made numerous improvements to the physical plant, such as reusable insulation, LED lighting and upgraded heating systems to reduce its carbon footprint, curb greenhouse gas emissions, and increase energy efficiency.
"What Saint Anne's Hospital has been able to accomplish in terms of energy usage savings in the last decade is no small feat," said Stephanie Terach, manager, energy efficiency and customer solutions, at Liberty. "We couldn't be prouder to honor them for their achievements and commitment to the state's climate goals and to our planet."
Saint Anne's Hospital President Michael Bushell noted, "Saint Anne's is proud to be a local leader in increasing energy efficiency. Thanks to our facilities team, and especially Clement Beaulieu, our longtime lead power plant operator, Saint Anne's has proactively sought ways to implement changes that not only contribute to financial efficiency but especially support our community's and the state's clean energy goals."
About the Sponsors of Mass Save
Mass Save is a collaborative of Massachusetts' electric and natural gas utilities and energy efficiency service providers, including Berkshire Gas, Cape Light Compact, Eversource, Liberty, National Grid, and Unitil. We empower residents, businesses, and communities to make energy efficient upgrades by offering a wide range of services, rebates, incentives, trainings, and information.
For the list of 19 Climate Leaders, visit MassSave.org.
About Saint Anne's Hospital
Founded by the Dominican Sisters of the Presentation in 1906, Saint Anne's Hospital in Fall River, Massachusetts, is a full-service, acute care Catholic hospital with 211 beds and satellite locations in Dartmouth, Attleboro, Swansea, and New Bedford, Massachusetts. A member of Steward Health Care, Saint Anne's provides nationally recognized patient- and family-centered inpatient care and outpatient clinical services to patients from surrounding Massachusetts and Rhode Island communities.
Saint Anne's key services include the Center for Orthopedic Excellence; bariatric surgery; multiple robotic-assisted surgical capabilities, including orthopedic surgery, spine surgery, and general surgery; Saint Anne's Hospital Regional Cancer Center; two ambulatory surgery centers; the Center for Pain Management; and inpatient geriatric psychiatry services. In addition to earning 22 "Straight A's" from the Leapfrog Group for patient safety since 2012, Saint Anne's has earned national recognition for cancer care, spine surgery, bariatric surgery, stroke care, and patient experience. 
###