Saint Anne's Hospital Earns Top Hospital Award for Quality and Safety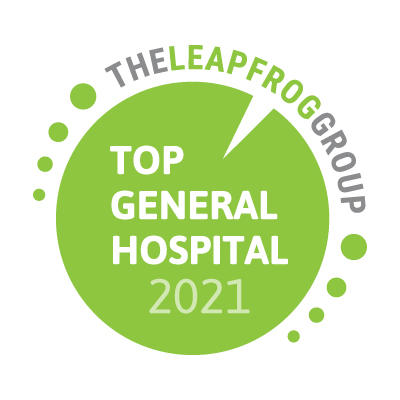 Highlighting its nationally recognized achievements in patient safety and quality, Saint Anne's Hospital was named a Top General Hospital nationally by The Leapfrog Group. Announced today, the Leapfrog Top Hospital award is widely acknowledged as one of the most competitive awards American hospitals can receive. The Top Hospital designation is bestowed by The Leapfrog Group, a national watchdog organization of employers and other purchasers recognized as the toughest standard-setters for health care safety and quality.
"This award is a direct result of the human touch and expertise that our staff brings to our patients every day," said Michael Bushell, president, Saint Anne's Hospital. "It is an honor to work with a team who places so much importance on quality, safety, and service."
To attain the Top Hospital distinction, hospitals must first have received an 'A' grade for safety in Leapfrog's most recent round of scoring to be eligible. Saint Anne's Hospital earned its 20th consecutive 'A' earlier this fall.
"Our consistent level of safety is a testament to the culture that our staff have created," said Chief Operating Officer/Chief Nursing Officer Carole Billington, BSN, RN, NEA-BC. "The past many months have been challenging times in health care, but through it all, our staff are always there for our patients to share their skill and compassion."
Over 2,200 hospitals were considered for the award. Among those, Saint Anne's Hospital received a Top General distinction. A total of 149 hospitals nationwide were selected as Top Hospitals, including:
8 Top Children's
46 Top General
23 Top Rural
72 Top Teaching
The quality of patient care across many areas of hospital performance is considered in establishing the qualifications for the award, including infection rates, surgery, and the hospital's capacity to prevent medication and other errors. The rigorous standards are defined in each year's Top Hospital Methodology.
"We are pleased to recognize Saint Anne's Hospital as a Top Hospital this year," said Leah Binder, president and CEO of The Leapfrog Group. "Even with the continued strain of the COVID-19 pandemic, Saint Anne's Hospital has demonstrated an extraordinary dedication to excellent health care in the greater Fall River and New Bedford communities. We congratulate the board, leadership, staff and clinicians who put their patients first."
To qualify for the Top Hospitals distinction, hospitals must rank top among peers on the Leapfrog Hospital Survey, which assesses hospital performance on the highest standards for quality and patient safety. To see the full list of institutions honored as 2021 Top Hospitals, visit The Leapfrog Group online.