Saint Anne's Hospital Attains 20th Consecutive National Patient Safety Award from The Leapfrog Group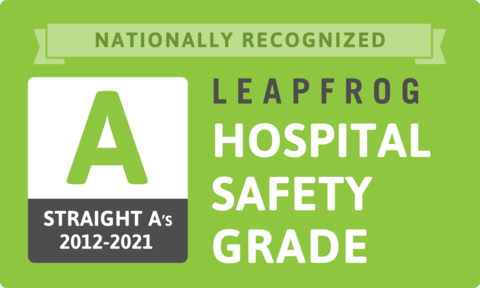 For the 20th consecutive time, Saint Anne's Hospital has been awarded an "A" Hospital Safety Grade from The Leapfrog Group for achieving the highest national standards in patient safety.
Saint Anne's Hospital is one of only 23 hospitals in the United States to be awarded an "A" every grading cycle since 2012. The designation recognizes Saint Anne's efforts in protecting patients from harm and providing safer health care.
"Receiving our twentieth consecutive 'A' safety grade demonstrates that delivering safe patient care at every opportunity is something that is truly engrained in our culture," said Michael Bushell, president of Saint Anne's Hospital. "This is a milestone achievement that so few have achieved across the country—only 23 hospitals in the entire U.S. That type of consistency is a direct result of the full commitment to safety shown by every member of our staff at Saint Anne's."
"It is an honor to be part of such a longstanding tradition of safe patient care and an amazing group of caregivers," said Chief Operating Officer/Chief Nursing Officer Carole Billington, BSN, RN, NEA-BC. "Despite all the challenges hospitals have faced over the past year-and-a-half, our staff continues to rise to the occasion for our patients. I am so thankful for our highly skilled, compassionate, and resilient team."
The Leapfrog Group, an independent national watchdog organization, assigns an "A," "B," "C," "D," or "F" grade to all general hospitals across the country. The grade uses over 30 measures of safety data including rates of preventable errors, injuries and infections, while also accounting for whether hospitals have systems in place to protect patients from harm. The Leapfrog Hospital Safety Grade is the only hospital ratings program based exclusively on hospital prevention of medical errors and harms to patients. The grading system is peer-reviewed, fully transparent and free to the public. Grades are updated twice annually, in the fall and spring.
"Saint Anne's Hospital has made a clear and consistent effort to protect patients from harm," said Leah Binder, president and CEO of The Leapfrog Group. "Establishing and maintaining systems that optimize patient safety is especially critical during times of crisis. I am grateful to the leadership and workforce of Saint Anne's for their unwavering dedication to protecting patients."
Read more about Saint Anne's Hospital's safety performance and access hospital safety tips.