Saint Anne's Hospital Multicultural Health Committee awards $3,000 in scholarships to area health care students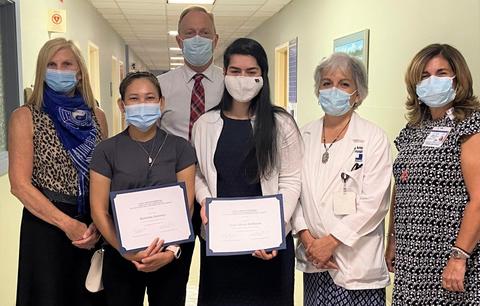 Photo, left-right: Tracy Ibbotson, administrative director, Saint Anne's Hospital Community Health Benefits; Banhnha Solomon; Mike Bushell, president of Saint Anne's Hospital; Anne Marie Brilhante; and Multicultural Health Committee members Lisa DeMello, Saint Anne's stroke program coordinator, and Denise Paulson, manager of interpreter services at Saint Anne's. (Not pictured: Josmarie Feliciano.)
Fall River, MA – Saint Anne's Hospital Multicultural Health Committee has announced recipients of this year's scholarship awards for students enrolled in health care programs for the 2021-2022 academic year.
This year's recipients, all residents of Fall River, are:
Anne Marie Brilhante, enrolled at Salve Regina University with a major in biology and minor in chemistry. She is fluent in Portuguese and Spanish.
Banhnha Solomon, enrolled at Bridgewater State University, majoring in public health. She is fluent in Khmer and Thai.
Josmarie Feliciano, a recent graduate of BMC Durfee High School who enrolled at UMass Dartmouth, with a major in nursing. She is fluent in Portuguese and Spanish.
Comprising a cross-section of the area's cultural communities and agencies, Saint Anne's Hospital's Multicultural Health Committee was created in 1985 to help the hospital in reducing barriers to the multicultural community and improving its access to health education. In 1987, the committee launched the scholarship program to encourage area bilingual or bicultural students to pursue education in health care.  Since its inception, the program has awarded more than $80,000 to students who are enrolled in health career education and have demonstrated leadership, bilingual and/or bicultural skills, community involvement, and financial need.
The scholarship program also supports the recent recommendation from a task force convened by Massachusetts Attorney General Maura Healey to study the disproportionate impact of COVID-19 on communities of color and lower socio-economic levels. Released on July 1, 2021, the report, entitled "Building Toward Racial Justice and Equity in Health: A Call to Action," outlined recommendations in five domains. One of these, "Health Care Workforce Diversity," looks at "how the pandemic's disproportionate impact on communities of color has brought attention to the importance of making the health care workforce more representative of the populations served."
About Saint Anne's Hospital
Founded by the Dominican Sisters of the Presentation in 1906, Saint Anne's Hospital in Fall River, Massachusetts, is a full-service, acute care Catholic hospital with 211 beds and satellite locations in Dartmouth, Attleboro, Swansea, New Bedford, and Stoughton, MA.
A member of Steward Health Care, Saint Anne's provides nationally recognized patient- and family-centered inpatient care and outpatient clinical services to patients from surrounding Massachusetts and Rhode Island communities. Saint Anne's key services include the Center for Orthopedic Excellence; bariatric surgery; multiple robotic-assisted surgical capabilities, including orthopedic surgery, spine surgery, and general surgery; Saint Anne's Hospital Regional Cancer Center; two ambulatory surgery centers; the Center for Pain Management; and inpatient geriatric psychiatry services. In addition to earning the Leapfrog Group's "Straight A's" for patient safety since 2012, Saint Anne's has earned national recognitions for cancer care, spine surgery, orthopedic surgery, bariatric surgery, stroke care, and patient experience and patient safety.
###