Saint Anne's Hospital Endoscopy Center of Excellence recognized for quality and safety
Fall River, MA – The American Society for Gastrointestinal Endoscopy (ASGE), a leading gastrointestinal medical society, has once again recognized Saint Anne's Hospital as part of its Endoscopy Unit Recognition Program.
Saint Anne's Hospital Endoscopy Center of Excellence is one of ten centers in Massachusetts to be recognized. Since 2016, it has been the only facility in Bristol County to earn this honor that is specifically dedicated to promoting quality in endoscopy care. 
The ASGE Endoscopy Unit Recognition Program honors endoscopy units that have demonstrated a commitment to patient safety and quality in endoscopy as evidenced by meeting the program's rigorous criteria, which include following the ASGE guidelines on privileging, quality assurance, endoscope reprocessing, Centers for Disease Control infection control guidelines, and ensuring endoscopy staff competency.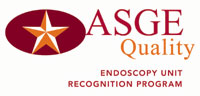 Endoscopy procedures are performed by specially-trained physicians using the most current technology to diagnose and treat diseases of the gastrointestinal (GI) tract. Using flexible, thin tubes called endoscopes, physicians are able to access the human digestive tract without incisions. Endoscopes are designed with high-intensity lighting and fitted with precision devices that allow viewing and treatment of the GI system.  
Some of the most common endoscopic procedures include colonoscopy, upper endoscopy (sometimes called "upper GI"), and various procedures that study and treat problems involving the liver, pancreas, gallbladder, spleen, and other areas in the GI tract.
"We are honored that our medical staff and endoscopy team are once again recognized by ASGE for quality and safety in our endoscopy program," said Michael Bushell, president of Saint Anne's Hospital. "Through ongoing education and continued compliance with ASGE's recognition program requirements, our endoscopy team has demonstrated our dedication to the delivery of high-quality patient care, including infection control principles, staff competencies, and patient satisfaction."
To be recognized by ASGE, a unit must attest through a peer-reviewed application process to the continued competence of all staff relative to their roles; demonstrate the adoption of unit policies specific to ongoing assessment of performance relative to key quality indicators; and attest that the unit has an established infrastructure and personnel dedicated to infection control and prevention. 
About the American Society for Gastrointestinal Endoscopy
Since its founding in 1941, the American Society for Gastrointestinal Endoscopy (ASGE) has been dedicated to advancing patient care and digestive health by promoting excellence and innovation in gastrointestinal endoscopy. ASGE, with more than 14,000 members worldwide, promotes the highest standards for endoscopic training and practice, fosters endoscopic research, recognizes distinguished contributions to endoscopy, and is the foremost resource for endoscopic education. 
For a list of ASGE-recognized programs, visit https://www.asge.org/docs/default-source/practice-support/eurp/honoree-list-july-2020.pdf. 
For more information, visit https://www.asge.org or https://www.screen4coloncancer.org. 
About Saint Anne's Hospital
Founded by the Dominican Sisters of the Presentation in 1906, Saint Anne's Hospital in Fall River, Massachusetts, is a full-service, acute care Catholic hospital with 211 beds and satellite locations in Dartmouth, Attleboro, Swansea, New Bedford, and Stoughton, Massachusetts. 
A member of Steward Health Care, Saint Anne's provides nationally recognized patient- and family-centered inpatient care and outpatient clinical services to patients from surrounding Massachusetts and Rhode Island communities. 
In addition to gastroenterology, Saint Anne's key services include the Center for Orthopedic Excellence; bariatric surgery; robotic-assisted surgical capabilities, including orthopedic surgery, spine surgery, and general and specialized surgery; Saint Anne's Hospital Regional Cancer Center; two ambulatory surgery centers; the Center for Pain Management; and inpatient geriatric psychiatry services.
Saint Anne's has earned national recognition for patient experience and patient safety, including the Leapfrog Group's "Straight A's" for patient safety since 2012 and consecutive awards for multiple years from Healthgrades.