Saint Anne's Hospital and the Friends of Jack Foundation expand Superhero Program for children with motorized cars to operating room
FALL RIVER, Mass. — Saint Anne's Hospital has announced that it will offer the Friends of Jack Foundation's Superhero Program to children preparing for a surgical procedure at its facility. The Friends of Jack Foundation, which created the Superhero Program to lessen children's anxiety in stressful situations through empowerment with a superhero cape and mask, will introduce two superhero-themed Power Wheels for the first time on the South Coast in this unique partnership with Saint Anne's. 
"This Friends of Jack Foundation's program to help children when they need surgery or other medical care will make a big difference in our youngest patients' experience and help their parents as well. We are truly grateful for their generous donation and ongoing support of this program," said Michael Bushell, president.
To further enhance the children's experience, Saint Anne's has installed "road" and "traffic" signs from the pediatric pre-op area to the operating room.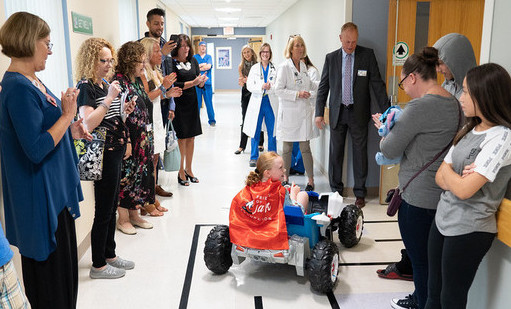 "We are so excited to launch our Superhero Program in Saint Anne's, and to add these Power Wheels to further enhance our children's experience as they prepare for surgery," said Jill Fearons, executive director of the Friends of Jack Foundation.
"Saint Anne's is the first health care provider on the South Coast to embrace the idea of the motorized cars, which has been successfully implemented in other ways at hospitals across the country. I am so appreciative to all those at Saint Anne's who helped make this happen, and share and support this important vision," she said.
The Friends of Jack Foundation currently offers the Superhero Program in healthcare, law enforcement and social service settings across the region. 
For more information on the Friends of Jack Foundation, visit www.friendsofjack.org or contact Jill Fearons at [email protected]. Also, follow the Friends of Jack Foundation on Facebook, Instagram and LinkedIn.
About Saint Anne's Hospital
Founded by the Dominican Sisters of the Presentation in 1906, Saint Anne's Hospital in Fall River, Massachusetts, is a full-service, acute care Catholic hospital with 211 beds and satellite locations in Attleboro, Swansea, Dartmouth, New Bedford, and Stoughton, Massachusetts. 
Saint Anne's Hospital is a member of Steward Health Care, the nation's largest private, tax-paying, physician-led health care network in the United States. Saint Anne's provides nationally recognized patient- and family-centered inpatient care and outpatient clinical services to patients from surrounding Massachusetts and Rhode Island communities. For two consecutive years, Saint Anne's has been named a Top Hospital in the U.S. by The Leapfrog Group for quality and safety. In addition, Saint Anne's has earned the Leapfrog Group's "Straight A's" grade for patient safety since the award's inception in 2012.
The hospital's key services include the Center for Orthopedic Excellence; surgical services, including multiple robotic-assisted surgical capabilities, two ambulatory surgery centers, spine surgery, and bariatric surgery; Saint Anne's Hospital Regional Cancer Center; the Center for Pain Management; the Spine Center; and inpatient geriatric psychiatry services.
About the Friends of Jack Foundation
The Friends of Jack Foundation is a 501(c)(3) non-profit organization founded in 2019 by Jilline Fearons. It is named in honor of her son, Jack, who is living with Chiari Malformation, a rare condition in which brain tissue extends into the spinal canal. The Friends of Jack Foundation organizes overlooked healthcare-focused programs for children in the greater South Coast region of Massachusetts. These programs for kids who are experiencing a situation that may be stressful or scary. Fearons discovered the importance of small but impactful gestures while navigating many emergency and high-risk medical procedures with Jack. Funds to support the Friends of Jack Foundation are raised through efforts that include Food for Tots, a partnership with Fun107 and WBSM1420, and the annual Friends of Jack Foundation Celebration.