Saint Anne's Hospital cardiac and respiratory care recognized for clinical excellence and patient safety
Fall River, MA - Saint Anne's Hospital has announced that it has been recently recognized for clinical excellence for three critical care conditions, including cardiac care, by Healthgrades, and has earned its second consecutive designation as a "Straight A's" hospital for patient safety by The Leapfrog Group.



"Saint Anne's Hospital has long been known for providing a high level of care for a spectrum of medical and surgical care," said Craig A. Jesiolowski, FACHE, president of Saint Anne's Hospital.
"Our recognitions by Healthgrades for cardiac and respiratory care and the Leapfrog Group as providers of top-tier care underscore the consistent commitment of our physicians and staff to the highest clinical standards, patient safety, and service to patients and families."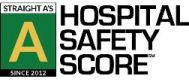 The hospital has received Healthgrades' five-star rating for treatment of patients with heart attack, heart failure and respiratory failure for the second consecutive year. A five-star rating indicates that Saint Anne's Hospital clinical outcomes are statistically and significantly better than expected when treating each condition.
Saint Anne's cardiovascular services include 24-hour emergency care by emergency, cardiac and cardiovascular specialists, plus a wide range of diagnostic and treatment services for more than 30 cardiovascular-related conditions, such as cardiac arrest, heart failure, stroke, cardiac arrhythmia, and peripheral vascular disorders.
Saint Anne's was among the nation's first hospitals earlier this year to earn the "Straight A's Hospital" designation by the Leapfrog Group. This honor is awarded to hospitals that have received the top "A" grade for the Hospital Safety Score since it was launched in 2012. Hospitals are rated on 26 patient safety measures, such as preventing blood clots or falls, and preventing death from serious treatable complications, such as surgical site infections.
Saint Anne's is one of 182 hospitals nationwide, one of 22 in Massachusetts, and the only hospital in the region to receive Leapfrog's "Straight A's" Hospital Safety Score designation.
"Saint Anne's Hospital regards the quality and safety of our care as a 24/7 priority," added Jesiolowski. "Together, our five-star ratings by Healthgrades and our 'Straight A's' designation by the Leapfrog Group clearly demonstrate our commitment to these standards for our patients, families and community. We are proud to receive consecutive national recognitions, but especially proud of our physicians and staff who deliver this care."
Healthgrades, an online resource that helps consumers make informed decisions for their health care, objectively evaluates hospital quality by measuring the actual and predicted number of patients who experienced complications or died during their hospital stay for a specific procedure or treatment. The complete Healthgrades 2016 Report to the Nation can be found at www.healthgrades.com/quality.
The Hospital Safety Score is the only publicly accessible, peer reviewed standard of hospital safety available free to the public and is considered the gold standard for hospital patient safety rating. The Hospital Safety Score and other publically reported measures for quality and patient safety can help consumers, their doctors and health insurers better understand the performance of hospitals across a wide range of patient conditions, surgeries and diseases along with their track record for predictably delivering safe care. To see Saint Anne's Hospital's score and access consumer-friendly tips for patients and loved ones visiting the hospital, visit www.hospitalsafetyscore.org.
Saint Anne's Hospital is a community hospital with comprehensive inpatient, outpatient, and emergency care services, serving adults and children from southeastern Massachusetts and nearby Rhode Island at its main campus in Fall River and its community satellites in Attleboro, Swansea, North Dartmouth, New Bedford, and Stoughton. Founded in 1906 by the Dominican Sisters of the Presentation, Saint Anne's Hospital is a member of Steward Health Care System LLC, the largest fully integrated community care organization and community hospital network in New England. Saint Anne's has been recognized time and again for quality, safety and service by such organizations as The Joint Commission, Healthgrades, The Leapfrog Group, and Blue Cross Blue Shield.
###