Saint Anne's Hospital's Regional Cancer Center gives patients access to a high level of clinical expertise in preventing, diagnosing and treating all types of cancer.
The Commission on Cancer of the American College of Surgeons nationally accredits Saint Anne's as a Community Hospital Comprehensive Cancer Program with commendation. Our program also is accredited in radiation oncology by the American College of Radiology and has earned the Women's Choice Award® for four consecutive years (2016-2019) as one of America's "Best Hospitals for Cancer Care." These distinctions are awarded to facilities committed to providing the best in cancer diagnosis and treatment.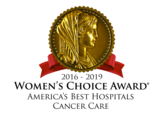 Services include:
Advanced external radiation therapy and brachytherapy, including:

Stereotactic radiosurgery
Stereotactic body radiation therapy
High-dose rate, intensity modulated and image guided radiation therapies

Outpatient chemotherapy clinic
Specialized Senior Adult Oncology program, tailored specifically for older adults
Access to select national clinical trials 
Comprehensive laboratory and pathology services
Specialized nutrition, social work, spiritual care, medical interpreter and other support care
Hospice care
Community health screenings, prevention education and support groups
CT, ultrasound and PET/CT, MRI, mobile MRI and mammogram
Inpatient Care
Saint Anne's provides specialized care for cancer patients who require hospitalization, delivering holistic care that addresses a patient's physical, emotional and spiritual needs. Our St. Dominic unit's primary nursing model fosters the valuable relationship between nurse, patient, and patient's family, creating a comfortable and familiar atmosphere.
Our Locations Include:
The Hudner Oncology Center at Saint Anne's Hospital, Fall River, MA.
Saint Anne's Hospital Regional Cancer Center-Dartmouth campus, Dartmouth, MA
Both centers provide comprehensive medical oncology/hematology, radiation oncology, and related professional and support services.
Our Team
Michele Albert, MD, FRCPC
Radiation Oncology

Raymond L. Dugal, MD
Radiation Oncology

Jacqueline E. Tan, MD
Radiation Oncology

Jason H. Lee, MD
Radiation Oncology
Resources
Meet Our Radiation Oncology Specialists

Learn about our radiation therapy capabilities, provided by board-certified and fellowship-trained radiation oncologists who are affiliated with Brigham and Women's Hospital, Dana-Farber Cancer Institute, and Harvard Medical School. We offer the region's most extensive array of radiation therapies at our locations in Dartmouth and Fall River.

Senior Adult Oncology Program

Older adults requiring cancer care often have needs unlike their younger counter-parts. Deciding on a plan of care involves input from the Senior Adult Oncology team, as well as the patient and, if desired, family members.

Esophageal Cancer Study

Read our 2016 annual cancer program report, including a focus on "Esophageal Cancer Treatment: Comparison of Patients at Saint Anne's Hospital versus National Averages," by Jason H. Lee, MD, radiation oncologist, Saint Anne's Hospital Regional Cancer Center.