Saint Anne's Hospital receives Get With The Guidelines-Stroke Gold Plus Quality Achievement Award
September 9, 2020
Fall River, MA – For the third consecutive year, Saint Anne's Hospital has received the American Heart Association/American Stroke Association's Get With The Guidelines®-Stroke Gold Plus Quality Achievement Award. 
The award recognizes the hospital's commitment to ensuring stroke patients receive the most appropriate treatment according to nationally recognized, research-based guidelines based on the latest scientific evidence.
Saint Anne's earned the award by meeting specific quality achievement measures for the diagnosis and treatment of stroke patients at a set level for a designated period. These measures include evaluation of the proper use of medications and other stroke treatments aligned with the most up-to-date, evidence-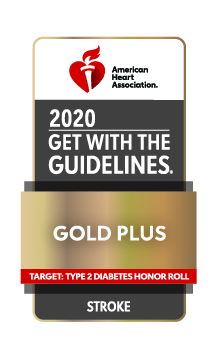 based guidelines with the goal of speeding recovery and reducing death and disability for stroke patients. Before discharge, patients receive education on how to manage their health, when to see their provider for follow-up, and other transition instructions as applicable (for example, outpatient physical therapy or inpatient rehabilitation).
"Saint Anne's Hospital is dedicated to improving the quality of care for our stroke patients by implementing the American Heart Association's Get With The Guidelines-Stroke initiative," said Michael Bushell, president of Saint Anne's Hospital. 
"The tools and resources provided help us track and measure our success in meeting evidence-based clinical guidelines developed to improve patient outcomes," said Bushell. "From area EMS providers to our Emergency Department team, specialty providers, and hospital staff, we are grateful to all who provide exceptional, coordinated care to our patients who experience stroke."
In addition to the Gold Plus award, Saint Anne's Hospital has received the Association's "Target: Type 2 Diabetes Honor Roll" award. To qualify for this recognition, hospitals must meet quality measures developed with more than 90% compliance for 12 consecutive months for the "Overall Diabetes Cardiovascular Initiative Composite Score." 
"We are pleased to recognize Saint Anne's Hospital for their commitment to stroke care," said Lee H. Schwamm, MD, national chairperson of the Quality Oversight Committee and executive vice chair of Neurology, director of Acute Stroke Services, Massachusetts General Hospital, Boston, Massachusetts. "Research has shown that hospitals adhering to clinical measures through the Get With The Guidelines quality improvement initiative can often see fewer readmissions and lower mortality rates."
According to the American Heart Association/American Stroke Association, stroke is the No. 5 cause of death and a leading cause of adult disability in the United States. On average, someone in the US suffers a stroke every 40 seconds and nearly 795,000 people suffer a new or recurrent stroke each year.
###
About Saint Anne's Hospital
Founded by the Dominican Sisters of the Presentation in 1906, Saint Anne's Hospital in Fall River, Massachusetts, is a full-service, acute care Catholic hospital with 211 beds and satellite locations in Dartmouth, Attleboro, Swansea, New Bedford, and Stoughton, Massachusetts. A member of Steward Health Care, Saint Anne's provides nationally recognized patient- and family-centered inpatient care and outpatient clinical services to patients from surrounding Massachusetts and Rhode Island communities. Saint Anne's key services include the Center for Orthopedic Excellence; bariatric surgery; multiple robotic-assisted surgical capabilities, including orthopedic surgery, spine surgery, bariatric surgery, and general surgery; Saint Anne's Hospital Regional Cancer Center; two ambulatory surgery centers; the Center for Pain Management; and inpatient geriatric psychiatry services. 
In addition to the American Heart Association/American Stroke Association awards, Saint Anne's also has earned Healthgrades awards for patient experience (2017-2020) and patient safety (2016-2020), plus The Leapfrog Group's "Straight A's" for patient safety since 2012. 
About Get With The Guidelines®
Get With The Guidelines® is the American Heart Association/American Stroke Association's hospital-based quality improvement program that provides hospitals with tools and resources to increase adherence to the latest research-based guidelines. Developed with the goal of saving lives and hastening recovery, Get With The Guidelines has touched the lives of more than 9 million patients since 2001. For more information, visit heart.org/quality.