Saint Anne's Hospital receives 2020 Women's Choice Award for Cancer Care
Fall River, MA – For the fifth consecutive year, Saint Anne's Hospital has been named one of America's Best Hospitals for Cancer Care by the Women's Choice Award®, America's trusted referral source for the best in healthcare.
The award signifies that Saint Anne's is in the top 9% of 431 U.S. hospitals offering cancer care services. 
A hospital must be designated by the American College of Surgeons' Commission on Cancer Classification as one of four specific types of cancer programs to be considered for the award. The Women's Choice Award measures hospitals on the presence of specific cancer-related services offered onsite, infection rates and patient recommendation ratings on the Hospital Consumer Assessment of Healthcare Providers and Systems Survey. The award is unique in that criteria also include primary research about women's healthcare preferences.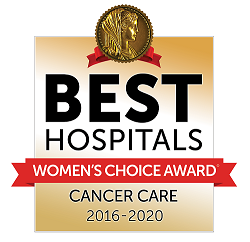 "The very first step on a cancer journey is determining where to go for care," said Delia Passi, founder and CEO of the Women's Choice Award and a breast cancer survivor. "We're empowering women to make confident decisions about the best hospital cancer centers for themselves and their loved ones. We help them make smart, informed choices during a stressful time."
Accreditation required for the award ensures that a hospital or facility offers a full range of diagnostic and treatment services, or provides integrated cancer care and comprehensive services.
Low infection rates compared to the national average are another important measure.  Oncology patients are more susceptible than other patients to hospital-acquired infections because of their compromised immune systems.
Passi emphasized that Saint Anne's Hospital and all 2020 America's Best Hospitals for Cancer Care deliver on the care that matters most to women.  
"In addition to our award winners' high-level performance on a national level, they provide the care that women value most, including easily accessible services onsite to avoid multiple trips for their treatment, which is so important to women faced with a cancer diagnosis," stated Passi.
Saint Anne's Hospital President Michael Bushell credited the expertise of the program's oncology specialists and the entire team's focus on quality of care, patient safety, and services that work together to optimize each patient's experience.
"We know that a cancer diagnosis can be daunting," said Bushell, "but patients tell us time and again how comforting their experiences are. From the first consultation with doctors, to all subsequent care by nurses, therapists, and others involved in their care, our cancer care team is committed to providing the most advanced medical care, with a large dose of compassion. We are grateful for the Women's Choice Award because it clearly reflects patients' confidence in our team's philosophy to care for each patient with sensitivity, dignity and excellence."
For more information about the America's Best Hospitals for Cancer Care, please visit womenschoiceaward.com/best-hospitals.
About the Women's Choice Award®
The Women's Choice Award is a trusted referral source, empowering women to make smart healthcare choices by identifying the country's best healthcare institutions based on robust criteria that consider female patient satisfaction and clinical excellence. The Women's Choice Award has been honored by the INC 5000 List of America's Fastest-Growing Private Companies for three consecutive years. To learn more, visit womenschoiceaward.com.
About Saint Anne's Hospital
Founded by the Dominican Sisters of the Presentation in 1906, Saint Anne's Hospital in Fall River, Massachusetts, is a full-service, acute care Catholic hospital with 211 beds and satellite locations in Dartmouth, Attleboro, Swansea, New Bedford, and Stoughton, Massachusetts. A member of Steward Health Care, Saint Anne's provides nationally recognized patient- and family-centered inpatient care and outpatient clinical services to patients from surrounding Massachusetts and Rhode Island communities. 
Saint Anne's key services include Saint Anne's Hospital Regional Cancer Center; the Center for Orthopedic Excellence; bariatric surgery; multiple robotic-assisted surgical capabilities, including orthopedic surgery, spine surgery, and general surgery; two ambulatory surgery centers; the Center for Pain Management; and inpatient geriatric psychiatry services. Saint Anne's has continued to earn The Leapfrog Group's "Straight A's" for patient safety since 2012 and numerous national awards and recognitions for services, including orthopedics, bariatric surgery, stroke care, and spine surgery. Learn more at saintanneshospital.org and follow us on Facebook, Twitter and LinkedIn.