Local EMS professionals honored with "EMS Stewards of the Community" Awards
Fall River, MA – In celebration of National Emergency Medical Services (EMS) Week, Steward Health Care hosted the third annual "EMS Stewards of the Community" award ceremony on May 20 at the Tirrell Room in Quincy.
Dallas-based Steward, which operates nine hospitals across Massachusetts, recognized 19 EMS providers. Among these were Fall River EMS Lieutenant Cheryl Davis, and paramedics James Guilmette, Heather Littlefield, Charles Oldham, and Brittany Carlson. They were recognized for "going above and beyond" in their interactions with patients in communities served by Saint Anne's Hospital.
The five local EMS providers were nominated by Fall River EMS Director, Timothy Oliveira, for their response on New Year's Day to a devastating fire caused by a vehicle crashing into a 36-unit building in the Four Winds apartment complex in Fall River.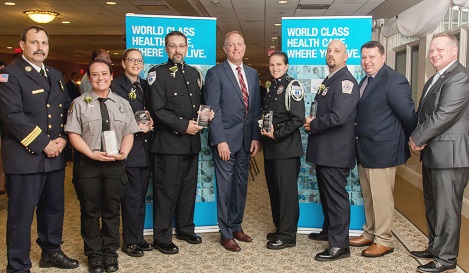 Above: Fall River EMS Director Tim Oliveira; Paramedics Brittany Carlson, Heather Littlefield, and Charlie Oldham; Saint Anne's Hospital President Michael Bushell; EMS Lieutenant Cheryl Davis; Paramedic James Guilmette; Ron Audette, administrative director, Saint Anne's Emergency Department; and Brenden Hayden, vice president, Steward EMS.
In part, wrote Oliveira, "Lt. Cheryl Davis immediately sized up the scene and set up a landing zone and requested Med Flight for a burn victim, including an additional medical rescue to the scene. 
"While heavy fire conditions remained on the above floors above the vehicle," he continued, "EMS crews began extracting the victims from the vehicle with the assistance from Heavy Rescue 1 utilizing the Jaws of Life. EMS crews do not have protective equipment to withstand structural firefighting operations or self-contained breathing apparatus, yet these paramedics did not hesitate to go into danger with fire above and a broken natural gas line."
The three-story apartment building was destroyed by the fire. Although the two occupants of the car succumbed to their injuries, Oliveira noted, "Due to the efforts of our EMS crews from all initial responding units, many more could have been lost." 
Saint Anne's Hospital President Michael Bushell noted that the heroism and professionalism demonstrated by EMS providers that day are testament to their dedication to serving the community.
"Every day, EMS providers throughout our communities help those experiencing health crises," he said. "Many calls are due to motor vehicle accidents, heart attacks, or drug overdoses, but, as clearly demonstrated on New Year's Day, they are trained and willing to help, no matter the circumstances. We are proud to partner with and honor all of the EMS providers who care for patients in and around Fall River."
The "EMS Stewards of the Community" awards show appreciation for emergency medical responders, emergency medical technicians and advanced emergency medical technicians, and paramedics who not only carry out the noble work of caring for others, but do so with a high degree of expertise, professionalism, and compassion. An internal committee of physicians and EMS directors selected nominated recipients among current providers in communities served by Steward.
Massachusetts State Police Trooper Christopher J. Dumont, EMT-P, delivered the "Stewards of the Community" keynote address. Trooper Dumont helped save the life of Transit Officer Richard Donohue, who was shot by one of the 2013 Boston Marathon bombing suspects. Because of his heroic actions, Dumont received the Medal of Honor, the highest award given by the Massachusetts State Police.
About Saint Anne's Hospital
Founded by the Dominican Sisters of the Presentation in 1906, Saint Anne's Hospital in Fall River, Massachusetts, is a full-service, acute care Catholic hospital with 211 beds and satellite locations in Attleboro, Swansea, Dartmouth, New Bedford, and Stoughton, Massachusetts.
A member of Steward Health Care, Saint Anne's provides nationally recognized patient- and family-centered inpatient care and outpatient clinical services to patients from surrounding Massachusetts and Rhode Island communities. In addition to consecutive Patient Safety Excellence Award and Outstanding Patient Experience awards from Healthgrades, recent recognitions include the Leapfrog Group's "Straight A's" for patient safety since 2012 and the 2018 Top Hospital award, plus Women's Choice Awards as one of America's Best Hospitals for orthopedic care and cancer care.
In addition to comprehensive diagnostic, emergency, medical, and surgical services, Saint Anne's key services include robotic-assisted surgical capabilities; Saint Anne's Hospital Regional Cancer Center; the Center for Orthopedic Excellence; ambulatory surgery centers in Attleboro and Dartmouth; the Center for Pain Management; and inpatient geriatric psychiatry services.
About Steward Health Care
Steward Health Care is the largest private, tax-paying physician-led health care network in the United States. Headquartered in Dallas, Texas, Steward operates 37 hospitals in the United States and the country of Malta that regularly receive top awards for quality and safety. The company employs approximately 42,000 health care professionals. The Steward network includes multiple urgent care centers and skilled nursing facilities, substantial behavioral health services, over 7,900 beds under management, and approximately 2.2 million full risk covered lives through the company's managed care and health insurance services.
The Steward Health Care Network includes 5,000 physicians across 800 communities who help to provide more than 12 million patient encounters per year. Steward Medical Group, the company's employed physician group, provides more than six million patient encounters per year. The Steward Hospital Group operates hospitals in Malta and nine states across the U.S., including Arizona, Arkansas, Florida, Louisiana, Massachusetts, Ohio, Pennsylvania, Texas, and Utah.
###