Saint Anne's Recognized for Straight 'A's' in Patient Safety by The Leapfrog Group
FALL RIVER, MA May 15, 2019 – Saint Anne's, a Steward family hospital, was once again awarded an 'A' for achieving the highest national standards in patient safety from The Leapfrog Group's Spring 2019 Hospital grades. Saint Anne's is one of only 41 "Straight A" hospitals in the United States to be awarded an 'A' every grading cycle since 2012. Saint Anne's is part of Steward Health Care – the largest private, tax-paying physician-led health care network in the United States – which leverages technology, innovation, and care coordination to provide the highest quality care and safety in communities where patients live.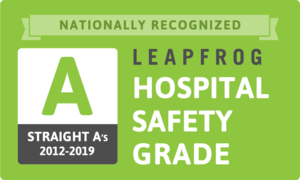 "Saint Anne's has received straight A's from the Leapfrog Group since 2012 and our strong track record reflects our commitment to deliver top quality care to keep patients safe," said Michael Bushell, President of Saint Anne's. "Our investment in the latest patient monitoring technology and the collaborative learning environment among doctors and hospital staff have contributed to our journey to prevent patient harm. We look forward to continuing exceptional patient care."
"Hospitals that have earned an 'A' grade for every cycle of the Leapfrog Hospital Safety Grade are making patient safety the priority it needs to be in every acute-care hospital in the United States," said Leah Binder, president and CEO of The Leapfrog Group. "The leadership at these distinguished hospitals are committed to putting patients first, every minute of every day. Saint Anne's continued focus in achieving an 'A' grade has exemplified the dedication required to provide safe care, which has in turn saved patient lives by preventing accidents, injuries, infections and errors."
The Safety Grade assigns letter grades of 'A', 'B', 'C', 'D' and 'F' to hospitals across the country based on their performance in preventing medical errors, infections and other harms. Developed under the guidance of a National Expert Panel, the Leapfrog Hospital Safety Grade uses 28 measures of publicly available hospital safety data to assign grades to more than 2,600 U.S. acute-care hospitals twice per year. It is peer-reviewed, fully transparent and free to the public.
To see more details on Saint Anne's performance, and to access consumer-friendly tips for patients, visit hospitalsafetygrade.org and follow The Leapfrog Group on Twitter and Facebook.
About Saint Anne's Hospital
Founded by the Dominican Sisters of the Presentation in 1906, Saint Anne's Hospital in Fall River, Massachusetts, is a full-service, acute care Catholic hospital with 211 beds and satellite locations in Attleboro, Swansea, Dartmouth, New Bedford, and Stoughton, Massachusetts. A part of Steward Health Care, Saint Anne's provides nationally recognized patient- and family-centered inpatient care and outpatient clinical services to patients from surrounding Massachusetts and Rhode Island communities. Recent recognitions include "Straight A's" for patient safety and the 2018 Top Hospital award from The Leapfrog Group; Women's Choice Awards as one of America's best hospitals for orthopedic care and cancer care; the Patient Safety Excellence Award and Outstanding Patient Experience Award from Healthgrades; and the Hurst Gold Standard of Nursing Award. In addition to comprehensive diagnostic, emergency, medical, and surgical services, Saint Anne's key services include robotic-assisted surgical capabilities; Saint Anne's Hospital Regional Cancer Center; the Center for Orthopedic Excellence; ambulatory surgery centers in Attleboro and Dartmouth; the Center for Pain Management; and inpatient geriatric psychiatry services. To learn more go to www.saintanneshospital.org.
About Steward Health Care
Steward Health Care is the largest private, tax-paying physician-led health care network in the United States. Headquartered in Dallas, Texas, Steward operates 37 hospitals in the United States and the country of Malta that regularly receive top awards for quality and safety. The company employs approximately 42,000 health care professionals. The Steward network includes multiple urgent care centers and skilled nursing facilities, substantial behavioral health services, over 7,900 beds under management, and approximately 2.2 million full risk covered lives through the company's managed care and health insurance services.
The Steward Health Care Network includes 5,000 physicians across 800 communities who help to provide more than 12 million patient encounters per year. Steward Medical Group, the company's employed physician group, provides more than six million patient encounters per year. The Steward Hospital Group operates hospitals in Malta and nine states across the U.S., including Arizona, Arkansas, Florida, Louisiana, Massachusetts, Ohio, Pennsylvania, Texas, and Utah. For more information, visit www.steward.org.
About The Leapfrog Group
Founded in 2000 by large employers and other purchasers, The Leapfrog Group is a national nonprofit organization driving a movement for giant leaps forward in the quality and safety of American health care. The flagship Leapfrog Hospital Survey collects and transparently reports hospital performance, empowering purchasers to find the highest-value care and giving consumers the lifesaving information they need to make informed decisions. The Leapfrog Hospital Safety Grade, Leapfrog's other main initiative, assigns letter grades to hospitals based on their record of patient safety, helping consumers protect themselves and their families from errors, injuries, accidents, and infections.