Saint Anne's Hospital Earns Healthgrades Awards for Excellence in Patient Safety and Patient Experience
Fall River, Mass. – Saint Anne's Hospital has announced that, for the second consecutive year, it is the only hospital in Massachusetts and Rhode Island to be recognized for two distinctions in quality excellence from Healthgrades: the Healthgrades 2019 Patient Safety Excellence Award™ and the Healthgrades 2019 Outstanding Patient Experience Award™. 
Released annually by Healthgrades, the leading online resource for information about physicians and hospitals, these awards recognize this year's elite 77 hospitals out of just over 4,500 hospitals evaluated for patient safety and patient experience that achieve both distinctions.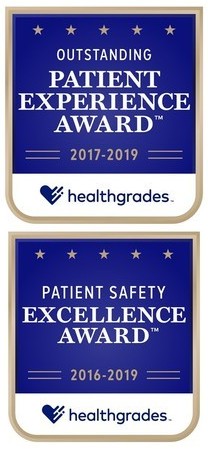 Saint Anne's Hospital is among the top 2% of eligible hospitals in the nation to receive both awards. This distinction recognizes Saint Anne's Hospital for excellent performance in safeguarding patients from serious, potentially preventable complications, as well as providing a positive experience for patients during their hospital stay.  
"Patient experience and patient safety go hand in hand, and we're proud to recognize the hospitals that make both a top priority in order to provide patients with the best care possible," said Brad Bowman, MD, chief medical officer of Healthgrades. "Consumers will in turn be able to use this information to feel confident when making important decisions about where they receive care." 
Saint Anne's Hospital President Michael Bushell noted that the dual honors are especially meaningful because they capture not only clinical excellence, but also hospital experiences as reported by patients themselves.
"Saint Anne's has established a track record of providing high quality care as demonstrated by Healthgrades' Patient Safety Excellence Award and other national recognitions," said Bushell.
Bushell continued, "While patients expect and appreciate a high level of clinical care, other elements of care, such as compassion, respect and communication, also significantly influence their overall experience. We're tremendously proud of our staff and medical providers who work diligently every day to provide such patient-centered care."
About Healthgrades 2019 Patient Safety Excellence Award™
During the study period (2015 to 2017), Healthgrades 2019 Patient Safety Excellence Award recipient hospitals demonstrated excellent performance in safety provided for patients in the Medicare population, as measured by objective outcomes (risk-adjusted patient safety indicator rates) for 14 patient safety indicators defined by the Agency for Healthcare Research and Quality (AHRQ).
If all hospitals in the country performed at the level of award recipients for each of the 14 Patient Safety Indicators evaluated by AHRQ, 127,667 patient safety events could have been avoided. 
In addition, Healthgrades found that patients treated in hospitals receiving the Patient Safety Excellence Award were, as compared to patients at non-recipients hospitals, on average*:
•    55.9% less likely to experience an accidental cut, puncture, perforation or hemorrhage during medical care.
•    50.9% less likely to experience a collapsed lung due to a procedure or surgery in or around the chest.
•    64.4% less likely to experience pressure sores or bed sores acquired in the hospital.
•    57% less likely to experience catheter-related bloodstream infections acquired at the hospital.
About the Healthgrades 2019 Outstanding Patient Experience Award™
In addition to being recognized as one of Healthgrades 2019 Patient Safety Excellence Award recipients, Saint Anne's Hospital also out-performed peer hospitals in providing outstanding patient experience.
Healthgrades evaluated performance by applying a scoring methodology to nine patient experience measures, using data collected from a 32-question experience survey from the hospital's own patients. The survey questions focus on patients' perspectives of their care in the hospital, ranging from cleanliness and noise levels in patient rooms to factors such as provider communication and responsiveness to patients' needs. The measures also include whether a patient would recommend the hospital to friends or family.
View Healthgrades' hospital quality methodologies.
View recipients of this year's Patient Safety and Patient Experience Awards.
*Statistics are calculated from Healthgrades Patient Safety Ratings and Excellence Award methodology which is based primarily on AHRQ technical specifications (Version 5e and 2018) to MedPAR data for years 2015 through 2017 and represent 3-year estimates for Medicare patients only. 
About Saint Anne's Hospital
Founded by the Dominican Sisters of the Presentation in 1906, Saint Anne's Hospital in Fall River, Massachusetts, is a full-service, acute care Catholic hospital with 211 beds and satellite locations in Attleboro, Swansea, Dartmouth, New Bedford, and Stoughton, Massachusetts.
A member of Steward Health Care, Saint Anne's provides nationally recognized patient- and family-centered inpatient care and outpatient clinical services to patients from surrounding Massachusetts and Rhode Island communities. In addition to the Patient Safety Excellence Award and Outstanding Patient Experience Award from Healthgrades, recent recognitions include the Leapfrog Group's "Straight A's" for patient safety since 2012 and the 2018 Top Hospital  award, plus Women's Choice Awards as one of America's best hospitals for orthopedic care and cancer care.
In addition to comprehensive diagnostic, emergency, medical, and surgical services, Saint Anne's key services include robotic-assisted surgical capabilities; Saint Anne's Hospital Regional Cancer Center; the Center for Orthopedic Excellence; ambulatory surgery centers in Attleboro and Dartmouth; the Center for Pain Management; and inpatient geriatric psychiatry services.
###