Saint Anne's Hospital announces availability of scholarship for nursing students
Fall River, Mass. – Saint Anne's Hospital has announced the availability of a scholarship for area nursing students pursuing a bachelor's degree in nursing.
The 2019 Nursing Memorial Scholarship is named in memory of Darcy E. Nientimp, BSN, RN, a Saint Anne's Hospital Intensive Care Unit nurse who passed away in February 2015 at the age of 26, six months after being diagnosed with non-Hodgkin's lymphoma. 
Funded by donations from the community, the Nursing Memorial Scholarship was established in 2015 to honor Darcy's memory by helping others pursue a nursing career with passion and excellence.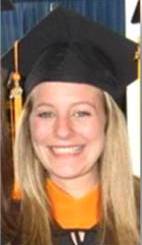 Darcy was an accomplished registered nurse, graduating magna cum laude from the Massachusetts College of Pharmacy and Allied Health School of Nursing, after first earning a bachelor's degree in English from the University of Massachusetts Dartmouth. She was beloved by her extended family and co-workers who were inspired by her smile, enthusiasm, faith, and work as a nursing role model for her loving, kind manner and her skill and advocacy in caring for her patients and their family members.
Candidates for this scholarship must be pursuing a bachelor of science in nursing degree from an accredited program and be able to use the award during the 2019-2020 academic year. It is open to area nursing students, as well as employees of Saint Anne's Hospital and their families.
---
The application for 2019 Nursing Memorial Scholarship, including complete information for this scholarship program, is available for download here. The deadline for applications is March 29, 2019. For more information, email [email protected].
---
About Saint Anne's Hospital
Founded by the Dominican Sisters of the Presentation in 1906, Saint Anne's Hospital in Fall River, Massachusetts, is a full-service, acute care Catholic hospital with 211 beds and satellite locations in Dartmouth, Attleboro, Swansea, New Bedford, and Stoughton, Massachusetts. A member of Steward Health Care, Saint Anne's provides nationally recognized patient- and family-centered inpatient care and outpatient clinical services to patients from surrounding Massachusetts and Rhode Island communities. Saint Anne's key services include the Center for Orthopedic Excellence; multiple robotic-assisted surgical capabilities, including orthopedic surgery, spine surgery, and general surgery; bariatric surgery; Saint Anne's Hospital Regional Cancer Center; two ambulatory surgery centers; the Center for Pain Management; and inpatient geriatric psychiatry services.