Saint Anne's Hospital Earns "Top Hospital" Award for Quality Care
Named one of America's Best Hospitals for the second consecutive year by The Leapfrog Group; Steward Health Care's Holy Family Hospital in Haverhill and Saint Anne's Hospital are the only two general hospitals in Massachusetts to earn Top Hospital designation
Fall River, MA – Saint Anne's Hospital has been named today as one of 35 Top General Hospitals in the United States by The Leapfrog Group.
Widely acknowledged as one of the most competitive honors American hospitals can receive, this is Saint Anne's second consecutive annual "Top Hospital" Award. The recognition also follows Saint Anne's recent "Straight A" grade for hospital safety, earned annually since its inception in 2012.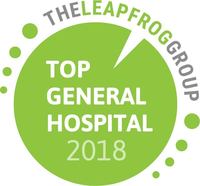 Saint Anne's is part of Steward Health Care, the nation's largest private, for-profit physician-led health care network in the United States, leveraging technology, innovation, and care coordination to provide the highest quality care and safety in communities where patients live.
Steward's Holy Family Hospital in Haverhill and Saint Anne's Hospital are the only two general hospitals in Massachusetts to earn this year's Top Hospital designations.
"We are gratified to be recognized by the Leapfrog Group as one of just six percent of America's top hospitals in achieving important goals in quality of care and patient safety," said Michael Bushell, president of Saint Anne's.
"Each and every day, the commitment of our frontline staff and medical staff to deliver the highest quality of care, with compassion and excellence, is evident. We are grateful for their expertise and humanity and for steadfastly fostering a culture of safety for our patients and the communities we serve."
Of nearly 1,900 hospitals in the country rated for a variety of important criteria, Saint Anne's "Top Hospital" distinction is recognized nationally among just 35 general hospitals, 13 children's hospitals, 17 rural hospitals, and 53 teaching hospitals. 
Performance across many areas of hospital care is considered in establishing the qualifications for the award, including infection rates, inpatient care management, and the hospital's capacity to prevent medication errors. The rigorous standards are defined in each year's Top Hospital Methodology. 
"Being acknowledged as a Top Hospital is an incredible feat achieved by less than six percent of eligible hospitals nationwide," said Leah Binder, president and CEO of The Leapfrog Group. "With this honor, Saint Anne's has established its commitment to safer and higher quality care. Providing this level of care to patients in Fall River requires motivation and drive from every team member. I congratulate the board, staff and clinicians, whose efforts made this honor possible."
To qualify for the Top Hospitals distinction, hospitals must submit a Leapfrog Hospital Survey and achieve highest performance in its category. The selection of Top Hospitals 2018 is based on surveys from nearly 1,900 hospitals. To see the full list of institutions honored as 2018 Top Hospitals, visit www.leapfroggroup.org/tophospitals.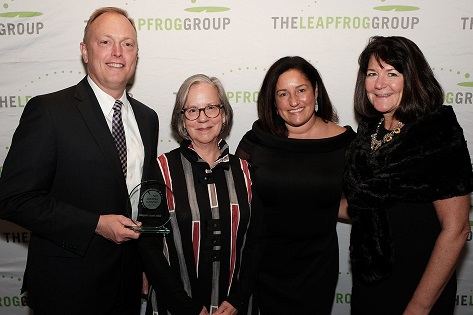 Photo: Accepting our award from Cristie Travis, CEO of the Memphis Business Group on Health and vice chair of The Leapfrog Group Board of Directors (second from left) at a presentation in Washington, DC, was our team from Saint Anne's: (left-right) Michael Bushell, president; Donna Leger, associate chief nursing officer; and Carole Billington, chief operating officer and chief nursing officer. 
About Saint Anne's Hospital
Founded by the Dominican Sisters of the Presentation in 1906, Saint Anne's Hospital in Fall River, Massachusetts, is a full-service, acute care Catholic hospital with 211 beds and satellite locations in Attleboro, Swansea, Dartmouth, New Bedford, and Stoughton, Massachusetts. A member of Steward Health Care, Saint Anne's provides nationally recognized patient- and family-centered inpatient care and outpatient clinical services to patients from surrounding Massachusetts and Rhode Island communities. Recent recognitions include "Straight A's" for patient safety since 2012 and the 2017 Top Hospital award from the Leapfrog Group; Women's Choice Awards as one of America's best hospitals for cancer care and orthopedic care; dual Patient Safety Excellence and Outstanding Patient Experience awards from Healthgrades. Saint Anne's key services include Center for Orthopedic Excellence; multiple robotic-assisted surgical capabilities; Saint Anne's Hospital Regional Cancer Center; two ambulatory surgery centers; the Center for Pain Management; a spine center; and inpatient geriatric psychiatry services.
About Steward Health Care
Steward Health Care is the nation's largest private, for profit physician led health care network in the United States. Headquartered in Dallas, Texas, Steward operates 36 hospitals in the United States and the country of Malta that regularly receive top awards for quality and safety. The company employs approximately 40,000 health care professionals. The Steward network includes multiple urgent care centers and skilled nursing facilities, substantial behavioral health services, over 7,900 beds under management, and approximately 2.2 million full risk covered lives through the company's managed care and health insurance services. The total number of paneled lives within Steward's integrated care network is projected to reach three million in 2018.
 
The Steward Health Care Network includes five thousand physicians across 800 communities who help to provide more than 12 million patient encounters per year. Steward Medical Group, the company's employed physician group, provides more than six million patient encounters per year. The Steward Hospital Group operates hospitals in Malta and nine states across the U.S., including Arizona, Arkansas, Florida, Louisiana, Massachusetts, Ohio, Pennsylvania, Texas, and Utah.
About The Leapfrog Group 
Founded in 2000 by large employers and other purchasers, The Leapfrog Group is a national nonprofit organization driving a movement for giant leaps forward in the quality and safety of American health care. The flagship Leapfrog Hospital Survey collects and transparently reports hospital performance, empowering purchasers to find the highest-value care and giving consumers the lifesaving information they need to make informed decisions. The Leapfrog Hospital Safety Grade, Leapfrog's other main initiative, assigns letter grades to hospitals based on their record of patient safety, helping consumers protect themselves and their families from errors, injuries, accidents, and infections.