Medical interpreters: Enabling access and overcoming barriers to care for non-English-speaking patients 
"I usually need my daughter who speaks English to make appointments for me, but she is away on vacation. I wanted to schedule a mammogram and was so happy to see that when I called Saint Anne's Hospital, they have a system that allows me to call directly and have an interpreter call me right back to assist me. The interpreter called and connected me with the breast care center so I could schedule my own annual screening. It made me feel good to know that I can now do this on my own and not have to rely on my daughter for everything." ~ a grateful Saint Anne's Hospital patient
Fall River, Mass. – The need to understand medical information, diagnoses, and directions accurately is crucial for making decisions that affect one's own treatment, or that of a loved one. Since 1992, Saint Anne's Hospital has been providing interpreter services to its patient population, allowing them to directly access the care they need while actively conversing in their primary language with their health care providers. 
During the past year alone, Saint Anne's Hospital's medical interpreters have handled almost 67,000 interpreter sessions. These patients – whose visits may range from the hospital's surgical centers in Dartmouth or Attleboro, to the Pain Management Clinic in Swansea, and the myriad inpatient and outpatient services on the hospital campus – have the reassurance that, no matter what language they speak, they will have the services of a qualified medical interpreter to help them navigate their care.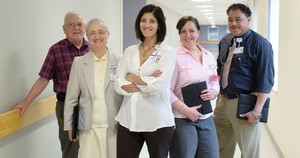 At Saint Anne's Hospital, today's interpreter resources in-person interpreters, plus a variety of technologies that ensure 24/7 access:
In-person interpreting: From the time patients arrive and throughout their care, Saint Anne's Hospital in-person interpreters ensure that patients and their caregivers understand each other. The hospital's team of 12 interpreters has undergone rigorous training that reflects not only a command of their second language, but also the medical terminology and nuances associated with each different language.  Saint Anne's interpreters speak the community's three most prevalent languages – Portuguese, Spanish and Cape Verdean Creole – and many are fluent in more than one language. 
Video interpretation: In 2015, Saint Anne's Hospital was the first in the region to offer this advanced, cutting-edge technology. If an interpreter is not readily available in person, hospital staff bring an interpreter to the patient via a real-time video platform. This interactive service currently offers 24 languages, with more to come in the near future.
An automated interpreter telephone triage system that connects an interpreter with Portuguese-, Spanish-, or Cape Verdean Creole-speaking patients or families who call by phone from outside the hospital. This system allows patients to request an interpreter who will call them back and stay on the phone with them. This enables them to speak directly to hospital staff and their providers to ask questions, reschedule appointments, or check on loved ones within moments of their call.
"Over 20 years working as an interpreter and manager has been very gratifying, providing language access to our patients and bridging the gap between patients and providers," says Natalia Konarski, manager of Interpreter Services at Saint Anne's Hospital. "It has been an enriching experience to see firsthand how technology has progressed in providing not only in-person interpreters, but also additional resources so that our patients, family and providers no longer need to wait in order to communicate or to be understood.  The reward of this profession is to see the glow of a smile from a patient when you're speaking their language."
Interpreter Services by the numbers at Saint Anne's Hospital
At Saint Anne's Hospital: 
86% of all interpreter encounters are done in person by the hospital's interpreters
14% are done with help from video and telephone interpreter vendors, usually for patient languages that are not locally staffed
Languages: 60% Portuguese, 34% Spanish, 2% Cape Verdean Creole, 14% other
Response time (the average time it takes  from the moment clinical staff requests an interpreter, until they arrive): 6.2 minutes
Total encounters in 2017: 55,739
Total encounters in 2018: 67,000, an increase of approximately 17%
About Saint Anne's Hospital
Founded by the Dominican Sisters of the Presentation in 1906, Saint Anne's Hospital in Fall River, Massachusetts, is a full-service, acute care Catholic hospital with 211 beds and satellite locations in Attleboro, Swansea, Dartmouth, New Bedford, and Stoughton, Massachusetts. 
A member of Steward Health Care, Saint Anne's provides nationally recognized patient- and family-centered inpatient care and outpatient clinical services to patients from surrounding Massachusetts and Rhode Island communities. Recent recognitions include "Straight A's" for patient safety since 2012 and the 2017 Top Hospital award from the Leapfrog Group; Women's Choice Awards as one of America's best hospitals for cancer care and orthopedic care; dual Patient Safety Excellence and Outstanding Patient Experience awards from Healthgrades. 
Saint Anne's key services include Center for Orthopedic Excellence; multiple robotic-assisted surgical capabilities; Saint Anne's Hospital Regional Cancer Center; two ambulatory surgery centers; the Center for Pain Management; a spine center; and inpatient geriatric psychiatry services.