Saint Anne's Hospital receives the 2018 Women's Choice Award as one of America's Best Hospitals for Cancer Care
May 15 2018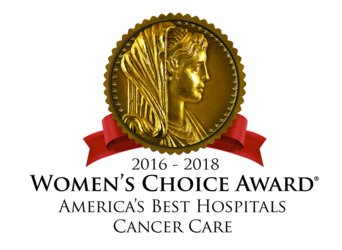 Fall River, Mass. – For the third year in a row, Saint Anne's Hospital been named one of America's Best Hospitals for Cancer Care by the Women's Choice Award®, America's trusted referral source for the best in healthcare.
Saint Anne's Hospital is one of 412 award recipients representing the hospitals that have met the highest standards for cancer care in the U.S. by the Women's Choice Award. The award signifies that Saint Anne's is in the top 8% of 4,789 U.S. hospitals offering cancer care services.
A hospital must be designated by the American College of Surgeons' Commission on Cancer Classification as one of four specific types of cancer programs to be considered for the award. The Women's Choice Award measures hospitals on the presence of specific cancer-related services offered onsite, infection rates, and patient recommendation ratings on the Hospital Consumer Assessment of Healthcare Providers and Systems (HCAHPS) Survey. The award is unique in that criteria also include primary research about women's healthcare preferences.
"For more than 40 years, Saint Anne's Hospital has offered cancer care services that meet or exceed national standards," said Carole Billington, MSN, RN, NEA-BC, the hospital's chief operating officer and chief nursing officer.
"Not only do our advanced clinical services enable us to care for a wide range of cancer diagnoses, but our highly trained physicians, oncology-certified nurses, and support professionals work with patients through diagnosis, treatment and survivorship to ensure the best possible outcomes, with compassion. We are proud to once again accept the Women's Choice Award as a testament to our team's expertise and our patients' confidence in their care."
"Women will search on their own for the best cancer care," said Delia Passi, founder and CEO of the Women's Choice Award. "According to our own survey, nearly two-thirds of women would do their own research vs. letting a doctor choose a hospital for their cancer care. The Women's Choice Award makes it easier for them to make confident decisions."
Accreditation required for the award ensures that a hospital or facility offers a full range of diagnostic and treatment services, or provides integrated cancer care and comprehensive services. Accreditation also signifies that the facility participates in cancer-related clinical research.
Low infection rates compared to the national average are another important measure. Oncology patients are more susceptible than other patients to hospital-acquired infections because of their compromised immune systems.
Passi emphasized that Saint Anne's Hospital and all America's Best Hospitals for Cancer Care deliver on the care that matters most to women.
"In addition to our award winners' high-level performance on a national level, they provide the care that women value most, including easily accessible services onsite to avoid multiple trips for their treatment, which is so important to women faced with a cancer diagnosis," she said.
For more information about the America's Best Hospitals for Cancer Care, please visit https://www.womenschoiceaward.com/awarded/healthcare.
About Saint Anne's Hospital Regional Cancer Center
Founded in 1976 at Saint Anne's Hospital, Saint Anne's Hospital Regional Cancer Center provides expertise with the care and convenience of a community setting to patients in the Greater Fall River-Greater New Bedford area.  With two full-service locations in Fall River and Dartmouth, the center provides comprehensive medical oncology and hematology care; radiation oncology services provided in collaboration with radiation physician specialists from Brigham and Women's Radiation Oncology Associates who hold appointments at Brigham and Women's Hospital and Dana-Farber Cancer Institute; access to national clinical trials; and professional and patient/family support services.  Saint Anne's Hospital Regional Cancer Center is nationally accredited with commendation by the Commission on Cancer of the American College of Surgeons as a comprehensive community cancer program and unconditionally accredited in radiation oncology by the American College of Radiology.
About the Women's Choice Award®
The Women's Choice Award® is a trusted referral source, empowering women to make smart healthcare choices by identifying the country's best healthcare institutions based on robust criteria that consider female patient satisfaction and clinical excellence. The Women's Choice Award was recently honored by the INC 5000 List of America's Fastest-Growing Private Companies in 2016 for a second consecutive year. To learn more, visit http://www.womenschoiceaward.com.
About Saint Anne's Hospital
Founded by the Dominican Sisters of the Presentation in 1906, Saint Anne's Hospital in Fall River, Massachusetts, is a full-service, acute care Catholic hospital with 211 beds and satellite locations in Attleboro, Swansea, Dartmouth, New Bedford, and Stoughton, Massachusetts.
A member of Steward Health Care, Saint Anne's provides nationally recognized patient- and family-centered inpatient care and outpatient clinical services to patients from surrounding Massachusetts and Rhode Island communities. Recent recognitions include "Straight A's" for patient safety and the 2017 Top Hospital award from the Leapfrog Group; Women's Choice Awards as one of America's best hospitals for cancer care and orthopedic care; the Patient Safety Excellence Award and Outstanding Patient Experience Award from Healthgrades; and the Hurst Gold Standard of Nursing Award.
In addition to comprehensive diagnostic, emergency, medical, and surgical services, Saint Anne's key services include robotic-assisted surgical capabilities; Saint Anne's Hospital Regional Cancer Center; the Center for Orthopedic Excellence; ambulatory surgery centers in Attleboro and Dartmouth; the Center for Pain Management; and inpatient geriatric psychiatry services.