Living with hip or knee pain? Learn about treatment alternatives at free information program
April 10 2018
Fall River, MA – If hip or knee pain has you worrying about how you'll have fun on vacation, play with your children or grandchildren, or just enjoy everyday activities again, join orthopedic surgeon Jerald W. Katz, MD, when he presents "Living with Knee or Hip Pain?" on Wednesday, May 16, at White's of Westport, 66 State Road (Route 6), Westport, from 6-7 p.m.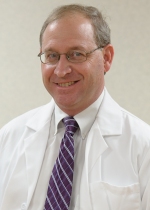 Chief of orthopedics at Saint Anne's Hospital, Dr. Katz will explain joint pain due to osteoarthritis and other causes, and highlight the range of remedies to relieve that pain, including advanced surgical technology called Mako.
Mako's innovative robotic-arm assisted technology has transformed the way local surgeons are treating one of the most common reasons for joint pain. A more natural-feeling alternative to traditional knee and hip replacement procedures for adults with osteoarthritis, Mako uses unique robotic arm interactive orthopedic technology that allows surgeons to achieve a new level of accuracy in joint implant alignment and positioning to enhance restored mobility and a return to an active lifestyle.
The first hospital in Massachusetts to introduce Mako for partial knee replacement in April 2011, Saint Anne's introduced Mako for total hip replacement in 2012.  Now, Mako for total knee replacement, approved by the Food & Drug Administration in 2017, is available at Saint Anne's.
To date, hospital surgeons have performed more than 700 Mako procedures.
Doors will open at 5:30 p.m., followed by Dr. Katz's presentation at 6 p.m. There is plentiful on-site parking, and refreshments will be served.
There is no charge for this program, but to ensure seating, register online, or call 508-689-3944. 
About Saint Anne's Hospital Center for Orthopedic Excellence
Saint Anne's Hospital's award-winning Center for Orthopedic Excellence offers advanced joint replacement care. 
For partial knee, total knee, and total hip replacement, Saint Anne's offers a spectrum of surgical options. Saint Anne's was the first in Massachusetts to offer robotic-arm assisted Mako technology for partial knee replacement, followed by Mako for total hip replacement in 2012 and Mako for total knee replacement in 2018.
For most patients, in-hospital rehabilitation begins on the first day, with follow-up rehabilitation provided through discharge to home or skilled nursing facilities. For certain qualified patients, joint replacement procedures also are available on an outpatient basis. 
Saint Anne's orthopedic clinical team includes board-certified surgeons and anesthesiologists, registered nurses specializing in orthopedics, and physical and occupational therapists with advanced training.  Patients and families participate in a pre-surgical education class to prepare for surgery and are guided through the surgical planning and rehabilitation process by an orthopedic nurse navigator dedicated to assisting joint replacement patients. Prospective patients also have access to a team of "orthopedic patient ambassadors," experienced joint-replacement patients who are available to share their hospital experience, recovery and rehabilitation. 
In addition to knee and hip replacement, Saint Anne's Center for Orthopedic Excellence capabilities includes arthroscopic surgery, hand surgery, surgical and non-surgical sports medicine, orthopedic trauma, pediatric orthopedics, arm and shoulder surgery (including total shoulder replacement), concussion management, and general orthopedics. 
More than 30 orthopedic surgeons perform more than 5,000 orthopedic procedures annually at the hospital's surgical facilities in Fall River, Dartmouth and Attleboro. 
In recognition of its excellence in joint replacement, Saint Anne's Hospital has been awarded advanced certification for hip and knee replacement by The Joint Commission; designated as a Blue Distinction Center + for Hip and Knee Replacement by Blue Cross Blue Shield; and named one of America's Best Hospitals for Orthopedics in 2017 and 2018 by the Women's Choice Award®.
About Dr. Jerald Katz
A graduate of the New York Medical College in Valhalla, NY, Dr. Katz completed his internship in general surgery at Baystate Medical Center in Springfield, MA. He served as chief resident for orthopedic surgery at Boston University School of Medicine and Boston City Hospital in Boston, as well as the Lahey Clinic in Burlington and Shriners Hospital for Crippled Children in Springfield. Additionally, Dr. Katz completed a fellowship in pediatric orthopedics at Shriners Hospital in Tampa, FL.
About Saint Anne's Hospital
Founded by the Dominican Sisters of the Presentation in 1906, Saint Anne's Hospital in Fall River, Massachusetts, is a full-service, acute care Catholic hospital with 211 beds and satellite locations in Attleboro, Swansea, Dartmouth, New Bedford, and Stoughton, Massachusetts.
A member of Steward Health Care, Saint Anne's provides nationally recognized patient- and family-centered inpatient care (including all private rooms) and outpatient clinical services to patients from surrounding Massachusetts and Rhode Island communities.
In addition to comprehensive diagnostic, medical, surgical, and emergency services, Saint Anne's key services include Saint Anne's Hospital Regional Cancer Center; the Joint Commission-certified Center for Orthopedic Excellence; ambulatory surgery centers in Attleboro and Dartmouth; the Center for Pain Management in Swansea and Dartmouth; and geriatric psychiatry services in Fall River and Stoughton.